"All About Eve" – the Triumph of Love in the Theater of Life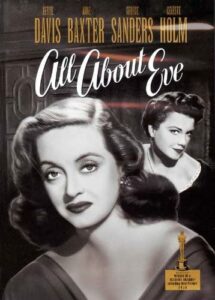 Title: "All About Eve"
Release Date: 1950
Director: Joseph Mankiewicz
Cast: Bette Davis, Anne Baxter, George Sanders, Celeste Holm, Garry Merrill, Hugh Marlowe, Gregory Ratoff
There are few films that faithfully depict the drama of falling stars. We can mention the famous Sunset Boulevard, which portrays the strict rules of the Hollywood film world, and "All About Eve", which exposes the theatrical environment of Broadway. However, while the former presents an extremely pessimistic picture, Joseph Mankiewicz's work ultimately turns out to be uplifting. It is a manifestation of faith in the saving power of love.
"All About Eve" is a film that can be watched with interest even many years after it was made. It is not only a compelling story about an aging actress nearing the end of her career, but also a touching love story and a flavour of criminal intrigue. There is also the famous episode with the budding Marilyn Monroe – a woman soon to take center stage among Hollywood stars.
The titular Eve (played by Anne Baxter) is a young girl in love with the theater and its great star, Margo Channing (a sensational performance by Bette Davis). Every day she waits outside the dressing room of the famous actress, until finally, thanks to the wife of the theater director, Karen Richards (Celeste Holm), she manages to talk to Margo. The star, impressed by the girl's modesty and sincerity, decides to hire her as a personal secretary. Soon it turns out that Ewa takes almost complete control over the actress's life. She also secretly gets a job as Margo's understudy in the theater. Eve's accidental performance arouses the admiration of reviewers and a famous playwright and Channing's life partner Bill Sampson (Gary Merrill).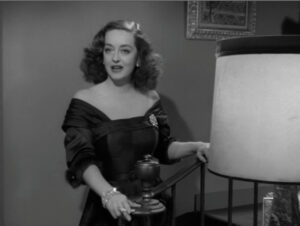 She tries to seduce Bill and, rebuffed, strikes up a friendship with theater critic Addison DeWitt (George Sanders). Thanks to a ruthlessness masked by a false modesty, Eve climbs the career ladder and finally wins the highest trophy – the Best Drama Actress award – and goes to Hollywood. But on the night before her departure, a young admirer of her talent appears in her hotel room, quickly winning Eve's trust…
"All About Eve" – a great actress walks off the stage
"All About Eve" is a film in which Mankiewicz builds a fascinating picture of a New York theater. From behind the scenes, the place appears to be a territory of ruthless competition, in which what counts is feistiness and mental toughness. The stars, sensitive on stage, in reality have to fight for their position and then guard it with their eyes. No wonder that the real art lies in not losing one's dignity in the rush for success. It is what determines the greatness of a star – such a personality is Margo. Bette Davis has certainly created an outstanding performance here. She appears as a beautiful, majestic star – a typical diva with unpredictable moods, difficult for those around her, but also extremely feminine and sensitive.
"All About Eve" portrays Margo at a turning point in her career. The film portrays Margo at a crucial moment in her career, as her youth, a key value in the eyes of critics and audiences, is fading away. The mature Margo simply no longer fits the roles of sweet 20-year-olds. Her time on stage is coming to an end – these are the cruel rules of theater. In this respect, the reunion of Bette Davis and Marilyn Monroe in one film seems almost symbolic. We are dealing with the departure of a great actress from the stage and her inevitable replacement by a new star.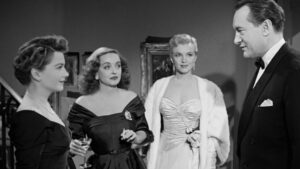 "All About Eve" – the drama of passing
At first, "All About Eve" suggests that similar principles apply in real life. Margo no longer feels confident in her role as woman and lover, and in addition a young, beautiful Eve appears on the horizon, instantly capturing her partner's attention. This fusion of two planes – life and stage – is masterly in "All About Eve". The star's professional crisis is identical here with her personal drama. In an honest conversation with her friend Margo, she bitterly states:
"Funny business, a woman's career. The things you drop on your way up the ladder – so you can move faster – you forget you'll need them when you go back to being a woman. That's one career all females have in common whether we like it or not. Being a woman. Sooner or later, we've got to work at it, no matter what other careers we've had or wanted. And in the last analysis nothing is any good unless you can look up just before dinner – or turn around in bed- and there he is. Without that you're not a woman. You're someone with a French provincial office – or a book full of clippings. But you're not a woman. Slow curtain. The end."
It is impossible not to notice that Mankiewicz put many misogynistic statements into Margo's mouth. The phantasm of a woman as a dependent being who does not exist without a man is a creation of the patriarchal narrative, which does not mean that women themselves do not contribute to its support. Margo's story, however, is much deeper – it says that in life, as opposed to theater, there is something that can provide a leading role in perpetuity.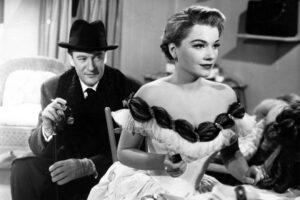 It is about love – it is what saves Margo as an ordinary woman. For Bill, contrary to the imposing narrative scheme, does not give in to the younger girl. His loyalty and sincere devotion to Margo are more valuable than stage success. Thanks to the realization of her personal happiness, the star abandons her stage career without regret and, paradoxically, although she does not receive the main theatrical award – she remains the winner. Margo, however, possesses qualities that make it possible for her to make such a choice, above all, a distance to herself and her achievements. These are qualities that the main heroine of Sunset Boulevard does not have.
"All About Eve" – the bitterness of victory
And what about Eve, the title character of Mankiewicz's film? Paradoxically, her creation is relegated to the background when compared to Bette Davis, though as a character she is very intriguing. This is mainly due to the mystery that lies within Eve – we get to know her gradually, uncertain whether we understand her intentions well. But when the banal truth about the girl comes to light, she becomes almost flat and one-dimensional. Just an ordinary careerist who will go to any lengths to achieve her desired goal. Eve can be replaced by many girls similar to her – hence the symbolic scene of her fan's multiplied reflection in the film's final scene.
The award for Ewa and the Hollywood contract undoubtedly have a taste of bitterness. Not only because the girl makes a dishonest career. The main point is that in the eyes of the heroine, the scene melts with reality. If life is merely a role designed to impress others, it becomes intrinsically empty.