Alla Nazimova – Founder of Lesbian Hollywood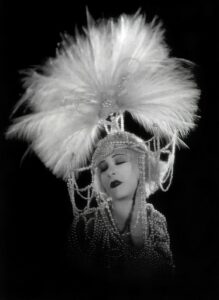 Alla has always been different. More sensitive, eccentric, above average smart and daring. She had tremendous clout and charisma, which were enough for her to travel from Russia to Hollywood. Despite her average beauty, she made a great career, not giving in to trends and producers' guidelines. Unluckily for her, the world was not ready for her artistic visions and unconventional lifestyle.
On the back of ambition and talent from Yalta to New York
Alla Nazimova had the misfortune to be born into a dysfunctional Russian family in Yalta under the name Marem-Ides Leventon, in her native language sounding Adelaida Yakovlevna Leventon. Shrouded in mystery is her date of birth, which actually falls somewhere between 1876 and 1879.
Alla grew up in a quarrelsome and violent family environment, where her father beat and humiliated her. He eventually divorced her mother and Alla led a sad life wandering around foster families, relatives and boarding schools. From a young age, she showed a tendency to extravagant behavior. However, she was a very talented child who began playing the violin at the age of 7. When she decided to perform on stage her father, not wishing the daughter of a prominent merchant to besmirch his name in such an undignified place, forced her to create a nickname. Alla took her stage name from a Russian novel in which Nadezhda Nazimova was the heroine. The name Alla was simply a diminutive of Adelaide.
As a teenager, despite her father's objections, she gave up the violin for the theater. She came to study acting when the Moscow Art Theater was founded by Konstantin Stanislavsky and Nemirovich-Danchenko. During her studies, Alla improved her financial condition by becoming the keeper of a wealthy Russian. After an unsuccessful love affair, Alla married an adept actor-Sergei Golovin, but it was a marriage on paper only.
After a short time, Nazimova left the Stanislavsky Theater and met Russian theater legend Pavel Orlenev, with whom she became professionally and privately involved. After much success on the stages of the theater in St. Petersburg and Moscow, they set out together to conquer Europe in 1904. They played in Berlin and London, where Alla electrified audiences and quickly found herself in the spotlight. A year later, Nazimova and Orlenev appeared in New York, where her performances were praised by critics there.
Although it was Orlenev who was the big figure in Russia, it was Alla's star that shone brightest. As a result, the entire troupe headed by Orlenev returned to Russia, and Nazimova signed a contract with legendary theater producer Lee Schubert. Schubert was impressed by her artistry as an actress, but in order to play with him Alla had to meet one condition – to learn English in six months. She accomplished this and made her Broadway debut in Ibsen's play Hedda Gabler.
Exotic Alla, pretend marriage and lesbian orgies
Over the next few years Nazimova became a favorite in New York, famous for her exquisite portrayals of the heroines of Henrik Ibsen's plays. She was so good at it that Lee Schubert named a theater after her. While working on one of her plays, Alla met her "husband" Charles Bryant. The couple claimed to be legally married, but Nazimova was, after all, already married to Russian Golovin.
Her great stage fame took her to Hollywood, where she made her film debut in 1916 in "War Brides", in which she played the feisty and irrepressible Joan. It is believed that with this role feminism entered cinemas, and Nazimova herself claimed that the film was a tribute to the women of the world.
In 1917, she was spotted by Lewis J. Selznick and was offered a five-year contract worth $13,000 a week ($3,000 more than the superstar Mary Pickford earned at the time). The contract stipulated that she be highly independent and agreed to intervene in productions in which she participated. Nazimova's acting was different from what audiences were used to. On the screen, Alla was strong, expressive, sometimes exaggerated and often strange and at the same time brilliant and exotic.
Nazimova moved to Los Angeles purchasing an impressive estate on Sunset Boulevard, which she renovated and expanded with a swimming pool and extensive gardens. She named the property Alla's Garden and made it a famous meeting place for Hollywood's artistic elite, where art, literature and theater were put on a pedestal. It was also a meeting house for celebrities with bisexual and homosexual tastes. Legends circulated about parties hosted by Alla, where one could meet the great stars of the silver screen. There were also scorching rumors of debauched orgies attended by the biggest stars of the time.
Nazimova's bittersweet independence
Thanks to her great box office and artistic success, she became a very influential woman. Nazimova patronized young actresses such as Jean Acker and Natacha Rambova (both were wives of Rudolph Valentino) and was famous for her love affairs with famous women such as Mercedes de Acosta, Eva Le Gallienne, Dorothy Arzner and Charlie Chaplin's first wife-Mildred Harris. Alla was given the nicknames "the founding mother of lesbian Hollywood" or "the most famous lesbian actress in Hollywood." There was a lot of truth in these terms, as she is credited as the creator of the phrase "sewing circle," which was meant to be a kind of code referring to lesbian and bisexual artists of her time. She formed social connections with the most prominent homosexual cultural icons, such as Oscar Wilde, Rudolph Valentino and Montgomery Clift.
After many successes in the professional field, Nazimova became confident enough to start producing her own films, the most famous being considered "Camille" where she starred alongside Rudoph Valentino, and 1922's "Salome." "Salome" is an extremely modern picture with futuristic costumes designed by Natasha Rambova, for which audiences were not yet ready. To put it more bluntly, audiences were gobsmacked to see the slim and limber Alla prancing around in leg- and shoulder-revealing outfits with very heavily emphasized eyes and bizarre hairstyles. It was said that the crew hired to make the film consisted exclusively of homosexuals. This is not confirmed information, but it indicates the influence Nazimova had on the film industry. Considered groundbreaking and innovative today, it was a commercial failure at the time. Critics did not leave a dry eye on the picture, describing it as absurd, sacrilegious and even stupid.
This coincided with a major scandal starring Alla and Chales Bryant. In order to continue a fake marriage in which one (or both) was homosexual or bisexual, her previous legitimate relationship, which she entered into while still in Russia, was kept strictly secret. After 24 years of marriage, Nazimova decided to divorce Golovin, while in 1925 Bryant surprised everyone (not excluding his "wife") by marrying a young woman declaring that he had previously been a bachelor (!). This was a great blunder and marked the beginning of the collapse of Alla's career.
Nazimova – The fall from the top hurts the most
Due to financial problems, she could no longer invest in film production and moved almost entirely to the theater. Her return to the stage was not successful, Nazimova's play did not delight either critics or audiences. The flop of another vaudeville play found Alla almost penniless, and to shore up her finances she advertised Lux soap and cigarettes. Facing bankruptcy, she remodeled her estate and turned it into a hotel. Unfortunately, she later had to sell it, taking up residence with her longtime companion Glesca Marshall in a rented apartment on the hotel grounds. As a result of these setbacks, Nazimova suffered a nervous breakdown. Since then, she worked mainly in the theater, appearing in only a few films in the 1940s, where she played supporting roles.
She overcame breast cancer a few years before her death, only to pass away in 1945 due to coronary artery thrombosis. She spent the last years of her life in seclusion, and her funeral was attended by few friends and no one from the family with whom she was feuding.
It is recognized that Nazimova was the first Hollywood actress who had almost complete control over her image, and all the roles and productions she created were an outgrowth of her vision and talent. She broke all conventions and infuriated audiences who adored her anyway. With her many visions, tastes and lifestyle, Alla was ahead of her time. Within a few years of her career she achieved artistic everything: adoration and critics and audiences, money, influence and control in Hollywood.
At the end of her life, she commented on her brilliant yet short career this way: "I have achieved a great deal as an artist. However, I discovered that for many years I had underestimated the woman inside me, disregarded her and demeaned her…as a result, nothing of great value remained for me. My work became weak and the woman inside me became weak."
Sources:
britannica.com
csse.monash.edu
imdb
wfpp.cdrs.columbia.edu
allanazimova.com
Robert A. Schanke, Kim Marra Passing Performances: Queer Readings of Leading Players in American Theater History; The University of Michigan Press. 1998