"Blinded by the Lights" – Warsaw noir [HBO Series Review]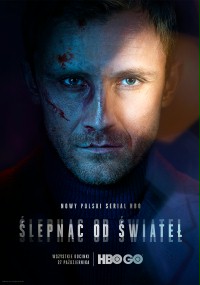 "Blinded by the Lights" is, in my opinion, an uneven series – there are some really great elements in it, such as the diabolical creation of Daria played by Jan Frycz, but there are also weaker elements, which unfortunately include the not very successful role of the main character, played by Kamil Nozynski. Overall, the HBO production based on the prose of Jakub Żulczyk is a brutal and dark picture, showing the dark side of Warsaw. The capital, where young people from all over the country flock to make a career, is not a place to live here, but the deepest level of hell, where drug dealers achieve the most.
"Blinded by the Lights" – from novel to series
The series "Blinded by the Lights" premiered on HBO in 2018. Four years earlier, Jakub Żulczyk's novel of the same name was published by the Świat Książki publishing house and took the market by storm. The bestselling thriller was nominated for a prestigious award – Polityka's Passports – and its author co-wrote the script for a TV series based on the original text. The series, like the book, caused considerable excitement and appealed to the public. It is one of the Polish productions made with flair and the involvement of outstanding actors.
The series is set in contemporary Warsaw. The main character, Kuba (played by Kamil Nozynski) came to the capital from a small town and, although he pretends in front of his family that he leads an average life of a man employed in a corporation, he really deals with something else. Namely, he reaps great profits from drug trafficking. His clients are people from the front pages of newspapers: well-known celebrities or bored politicians' wives. However, living a high adrenaline life is very tiring, so Cuba wants to quit the whole business and with the money put aside fly to Argentina, where he will start a new life at the side of the woman he loves. He himself is not sure whether she is his former partner-model Paulina (Marzena Pokrzywinskaya) or his good friend Pazina (Marta Malikowska), with whom he has had a close relationship for a long time.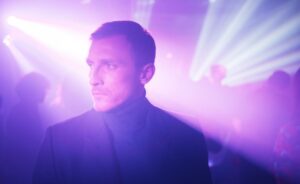 However, Kuba's plans become considerably complicated when his boss Jack (Robert Więckiewicz)'s business dealings are somehow encroached upon by Dario (Jan Frycz), a legendary Pruszkow gangster who has just been released from prison and is intent on regaining his influence….
"Drunk from words. Deaf from noise. Blinded by the lights" – Warsaw noir
The series' most poignant dimension is the dark image of the Polish capital. It's a space shown mainly at night, whose topography is defined by nightclubs, party houses, apartments of wealthy celebrities and glass skyscrapers where wealthy customers wait for their next dose of cocaine. The city, straight out of American film noir, is here an ensemble of characters such as the ubiquitous hustle and bustle of neon lights, street lamps, signal lights and car lights. This is alluded to by the series' title, which emphasizes the characters' confusion in the thicket of the metropolitan jungle. Warsaw appears as a great labyrinth, in which all signposts have lost their original function, becoming deceptive signs that lead the characters astray. For as Cuba states in his personal prayer: "We are walking through the forest. Drunk from words. Deaf from the noise. Blinded by the lights."
The motif of the protagonist wandering around the city as if under a Dantean hell and significant scenes of going down – to the basements of nightclubs, where people intoxicated with alcohol and drugs party – are elements of building a kind of inferno and at the same time one of the strongest assets of the series. Oneiric inserts from the main character's nightmares complement this aura, but the real spirit of this ominous and thickening atmosphere is Dario and Jan Frycz's sensational performance. Personally, I think it's worth watching the series primarily for this display of acting, which wins everything here. Even Robert Więckiewicz with his portrayal of Jack, although great as a straightforward gangster promoted from a kebab stall to a mafia boss, is no match for Dario's role.
Issues uttered by Frycz have already passed into pop culture: "but it's not to me yes, to me no," "I would drink tea. Tea with sugar. Without lemon," "well I don't like you anymore." Every gesture of the actor, facial expression, tone of voice create an extremely coherent and emanating diabolical atmosphere. I dare say that Dario, performed by Frycz, is a character straight out of Fyodor Dostoevsky, simultaneously repulsive, terrifying and fascinating. The appearance of this gangster on the screen momentarily captures the attention of the viewer, and every word he utters electrifies with a tension that takes your breath away.

"Blinded by the Lights" and Kamil Nożynski's weak performance
Unfortunately, against the background of the excellent cast of actors, Kamil Nozynski's creation casts a distinct shadow. Yes, here we have a very handsome man in expensive suits, with the best watches and an even better car, who keeps a stone face in every situation. However, playing a character who is closed off and hides his true identity in such a way that he appears to be a flesh-and-blood man, hiding a secret of some kind, requires quite a skill. For me, unfortunately, Kamil Nozynski did not convince, and even irritated. Even more, I had the impression that the scenes in which he made longer statements were as dull as text read from a prompter.
Even weaker on screen was Marzena Pokrinskaya, playing Kuba's former partner and great love. For me, this is the most unbelievable and badly cast character of the series. Statuesque beautiful, but completely flat, without expression or motivation. Of course, her opposite is the great role of Marta Malikowska, who was able to credibly portray an ordinary girl in love, against all odds believing that there is still a chance to escape together to an exotic country.
In conclusion, "Blinded by the Lights" is hardly a production for everyone – before the screening you should be prepared for a large dose of brutal violence and a dark, overwhelming world. However, in the history of Polish serials it is certainly a significant position, which is worth getting to know, if only for the cult texts, such as the perverse one: "To each his own joke at the end."