Pola Negri – the Pole who conquered Hollywood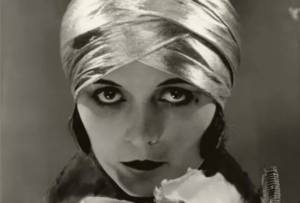 Pola Negri was the only Polish woman who managed to make a career in Hollywood. She was famous for her exceptional beauty, extravagance and love of famous lovers. She had affairs with Charlie Chaplin and Rudolf Valentino, among others. However, happiness in love was not written for the great actress, only the film never failed her feelings.
Pola Negri's biography is very interesting, because it makes you wonder how this poor daughter of a boiler-maker and a cleaning lady reached the top of the Hollywood cinema? Was she exceptionally beautiful and talented? Did she have an influential mentor? Or maybe she owed everything to her hard work? As usual, the truth lies somewhere in between and it is difficult to unravel Pola's secret on the basis of biographical facts alone. Certainly her path to the film salons was long and, contrary to appearances, not at all strewn with roses.
Barbara Apolonia Chałupiec was born in 1897 in Lipno, Kuyavia. Her father, a Slovak Gypsy, was not a model husband and when Pola was eight years old he was arrested for numerous crimes and deported to Siberia. Her mother moved with her daughter to Warsaw, where she soon lost all her possessions and became a servant. After graduating from the convent school, the girl enrolled in a free ballet school at the Grand Theatre.
Pola Negri – Beauty and an influential guardian
It was at this time that Apolonia Chałupiec began a mysterious relationship with wealthy Kazimierz Hulewicz, vice-president of the Warsaw Government Theatres. To this day we do not know who this influential protector was to the future actress; at the time she met him, Pola was only 14 years old. When she fell ill with tuberculosis, Hulewicz sent her to Zakopane and paid for her treatment. Nevertheless, Pola had to give up ballet and enrolled in a theater school. At that time she also adopted an artistic pseudonym in honor of the Italian poet Ada Negri.
She first appeared on stage in 1912 in Aleksander Fredro's Śluby panieńskie / Maidens' Vows and immediately won critical acclaim. Her role in Max Reinhardt's "Sumurun" was a success on a European scale. This in turn led to her first film appearance in "Slave of Sin" in 1914. The film was produced by Sphinx Alexander Hertz, and its main sponsor was, of course, Kazimierz Hulewicz.
Pola Negri – talent appreciated in Berlin and first love failures
After that, Negri's career moved at lightning speed. At the age of 20, she was offered a contract by the German film studio Saturn, and moved to Berlin. In addition to acting in films, she had the opportunity to study with the greatest master of the art of acting at the time, Max Reinhardt. It was through Reinhardt that she met Ernst Lubitsch, who opened her path to Hollywood. Negri appeared in "The Eyes of Mummy Ma", "Gypsy Blood", "Mania" and "Passion". It was at this time that her image of an eccentric vamp walking with a tiger on a leash was also formed.
During this time, Pola Negri also had an unsuccessful marriage with Count Eugeniusz Dąmbski. The relationship was rather quickly annulled, and the actress consoled herself in the arms of extremely wealthy entrepreneur Wolfgang Schleber. Nevertheless, the man was quite unstable in his feelings and eventually exchanged the beautiful Pola for another woman.
Pola Negri went on to conquer Hollywood
In the United States, Negri found herself mainly thanks to Charlie Chaplin. After seein "Passion" in Berlin, he urged her to come to the United States, and it was thanks to his admiration that Pola received an invitation from Jesse L. Lasky. So the actress signed a contract with the Paramonunt label, which very quickly took care of her image. Pola became even more mysterious and eccentric. She drove a white Rolls-Royce with ivory handles, and went for walks with her greyhounds and a tiger on a leash.
For publicity purposes, an artificial conflict was also created between Negri and Gloria Swanson. The actresses were supposed to hate each other, tease each other and accuse each other of the greatest meanness.
Pola Negri and her hollywood romances
The Polish actress, of course, had her great romances. One of them was Charlie Chaplin, who became the fiancé of the beautiful Miss Negri. The actress was said to have been too jealous, so after a stormy argument the relationship finally fell apart. Pola Negri's most famous partner was the divine Rudolph Valentino, the idol of women the world over. Together with the passionate southerner they created one of the most famous acting couples in the history of cinema.
The love between Negri and Valentino was full of numerous scandals, spectacular quarrels and even more spectacular evidence of affection. Of course, this romance very quickly became media and contributed to the career of both actors. In the eyes of the whole world they were the perfect couple – the embodiment of the dream of great love. The idyll was interrupted by the sudden death of Valentino in 1926. The actor died as a result of complications after an operation on his appendix. Pola was not with her lover at the time, and when she arrived in New York, Valentino was already dead. In the end, the love ended in scandal – it turned out that the Italian amant had huge debts and no one wanted to pay for his funeral. Neither did Negri herself, who, in addition, presented in public spectacular fits of hysterical grief after his beloved.
Pola Negri – an unhappy marriage
During this time, Negri purchased a stately chateau in France and met a Georgian prince, Serge Mdivani, whom she married as early as 1927. It was the most fateful of her relationships. The young spouse was primarily concerned with carelessly squandering Negri's fortune. When the actress became pregnant, she moved to France. She soon miscarried, however, and this sad event coincided with the stock market crash of 1929 and the loss of much of her fortune. In this situation, her husband left Negri, and she herself fell into alcoholism.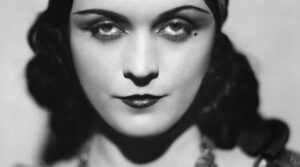 The strong-willed actress, however, recovered from her fall and decided to regain her fame and fortune. She found film work in Britain, where she starred in "The Way of Lost Souls", the last silent film of her career. At the same time she met a handsome pilot and businessman Glen Kidston and believed in love again. Unfortunately, this relationship too had a tragic ending – Kidston was killed on a flight to South Africa over the Dragon Mountains.
Pola Negri – "Hitler's Favorite Actress"
Negri's first sound film was "A Woman Commands", in which she sang the famous song "Paradise". The real breakthrough in Pola's career came when she was invited to Germany by the Berlin-based UFA label. Interestingly, while working on the film "Mazurka", Negri ran into trouble because she was accused of being of Jewish origin. However, Adolf Hitler himself intervened in her case and the Polish actress quickly returned to work. What is more, "Mazurka" became Hitler's favorite film. Negri played a mother who committed murder to save her daughter. The Polish actress was soon baptized as "Hitler's favorite actress" and was even accused of having an affair with the dictator.
She was even accused of having an affair with the dictator. Subsequent productions in which Negri starred included Moscow-Shanghai and the famous Tango Notturno from 1937. In 1938, however, the actress decided to secretly leave Nazi Germany. She had to do it very carefully, she went then to France, and after Hitler occupied that country she emigrated to the USA. In 1943, she starred in the film To Outwit, but her career was coming to an end. She got back on her feet financially thanks to her friendship with Margaret West, with whom she settled in San Antonio, Texas. The last film she appeared in was 1964's Moon Spinner. The actress died in 1987 in San Antonio, at the age of 90.
Literature:
S. Koper, "Królowe salonów II RP", Warsaw 2015.