"Silver Linings Playbook" – Looking Out for Signs [Review]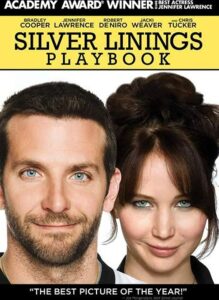 Title: "Silver Linings Playbook"
Release Date: 2012
Director: David O. Russell
Cast: Jennifer Lawrence, Bradley Cooper, Robert De Niro, Jacki Weaver, Chris Tucker, Anupam Kher, John Ortiz
"Silver Linings Playbook" by David O. Russell is not only a beautiful love story with the phenomenal duo of Jennifer Lawrence and Bradley Cooper. It's also a cinematic manifestation of acceptance of life as it is in its imperfections and acceptance of the greater and lesser foibles from which none of us is free. It's a story about building one's own world out of uneasy family relationships and reading the signs of love from loved ones. Above all, Russell's picture is guided by the idea of taming mental disorders and taking off their social stigma.
"Silver Linings Playbook" – Pat returns to the family home
The movie "Silver Linings Playbook" is set in the suburbs of Philadelphia. Pat Solitano (Bradley Cooper), after eight months of forced stay in a psychiatric hospital, conditionally resides in the house of his parents. The man ended up in the facility because of the severe beating of his friend, a history teacher at the local high school, whom he found in the shower with his wife Nikki (Brea Bee). Pat's mother, Dolores (played by Jacki Weaver) though full of concern, decides on her own responsibility to bring her son home. The protagonist's father, Patrizio (Robert De Niro) welcomes his son's arrival, as he is convinced that this one brings him luck in supporting his beloved Eagles team. And it's not just about sports, but also about a lot of money: unemployed Patrizio takes illegal bets at home, on which he hopes to earn money for his own restaurant.
Pat approaches his stay at his parents' house optimistically. He has a carefully laid out plan in his head: he wants to lose weight through running, catch up on the reading that Nikki discusses in class with her students, and ultimately win back his wife. He doesn't accept that the woman has applied for a restraining order and is unlikely to return to her husband. One day at dinner at his friend Ronnie's (John Ortiz), the hero meets his wife's sister, Tiffany (Jennifer Lawrence). It turns out that the girl, after the death of her husband, similarly struggles with mental disorders. The woman, despite initial disagreements, proposes to Pat that he become her dance partner in a local competition that is about to take place. The hero is reluctant to agree, but encouraged by petty blackmail decides to take the time to learn the layout.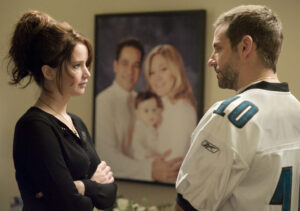 "Silver Linings Playbook" – Pat's therapy
The central theme of "Silver Linings Playbook" is the inner transformation of the main character. The entire rhythm of the narrative here has been subordinated to the successive phases of Pat's mental state. Therefore, we have to deal with nervous camera rides reflecting the emotional chaos of the man. This is particularly evident at the beginning, when Pat returns home from the hospital, but also later, when he experiences successive ups and downs, the image also begins to swirl before our eyes. Thus, we adopt the protagonist's perspective, which means that we are not always sure whether what we are shown is really taking place or is merely Pat's projection. This is the case with the song the protagonist hears when he gets upset. It's a song that the man associated with his wife's betrayal, because the melody rang out in the house at the moment he covered Nikki with her lover. Whenever it reverberates in the film, we don't know whether the sounds are real (as when visiting a psychiatrist) or imaginary (such as after a failed date with Tiffany).
As Pat's healing process progresses, the on-screen chaos gradually turns into harmony and everything calms down. The therapeutic process is reflected in the character's progress in dancing with Tiffany. With the mastery of successive steps, Pat's slow metamorphosis takes place. The most important thing in this therapy, however, is the presence of the guide – she is the one who leads her partner in this journey, and he, following her guidance, gradually becomes proficient. The final result of the whole process, in turn, is not just a loving relationship with the heroine, but the hero's finding his place in the world in a broader sense. It is worth noting that at the beginning of the film we see Pat alone in a hospital room, while at the end he is happy with his family and friends. The leap, however, does not happen as if by magic. The protagonist, upon returning home, is also surrounded by loved ones, but then it is a completely different experience: he seems overwhelmed by their presence and constantly flees in search of solitude. The road to well-being leads through slowly unraveling the pattern and learning to deal with emotions.
The movie "Silver Linings Playbook" – Tiffany's transformation
Not only Pat undergoes a spectacular transformation in the film "Silver Linings Playbook", the same happens to Tiffany. Although the girl seems to be endowed with greater intuition, and in the end it is thanks to her that the whole process can succeed, she herself is also deeply wounded. The heroine's slightly better mental condition is symbolized by her greater autonomy than in Pat's case: Tiffany does not live with her parents, but in a self-built outbuilding next to their house. Initially, the girl treats Pat schematically: in accordance with the chosen neurotic strategy of coping with the trauma of losing her husband, she proposes to him sex without commitment. In her case, too, the association of the traumatic event with his circumstances (her husband was killed while he was buying erotic lingerie for her), causes her to loop, as it were, in the carnal sphere and seek in it a remedy for her pain.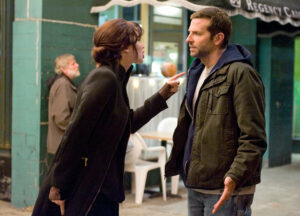 Pat impresses Tiffany only when he refuses to take the easy way out and declares his fidelity to his wife. Thus, among a whole taboo of predictable men, he presents himself as someone who can really love and who is worth paying more attention to. The girl is not at all tender and indulgent to Pat, on the contrary, she is able to courageously point out to him the gaffes he commits, thus stimulating his work on himself. Eventually they help each other, and their transformation is reflected in a significant image metamorphosis. Pat ditches the bizarre garbage bag he wraps around himself while running to burn more calories (he can be associated with penitential attire and constant self-punishment) and the workout tracksuit to present himself in an elegant amant. Tiffany, on the other hand, sheds the black cloak reflecting her dark, gothic style of dress and shows up in what is symbolically a shiny white outfit.
It is impossible not to mention here the wonderful performance of both actors in "Silver Linings Playbook". Fully deserved awards: Oscar and Golden Globe for Jennifer Lawrence reflect the great artistry that the actress displayed in the role of Tiffany. The constant balancing between the burden of trauma, a strong, feisty character, and the deep feelings that Pat awakens in her comes out perfectly for Lawrence. And at the same time, her character has an incredible erotic potential, the strength of which she doesn't seem to recognize at all. Bradley Cooper, on the other hand, showed himself in Russell's film from a completely different side than, for example, in the earlier "Hangover". The choice of just this actor for the role of a mentally unstable, confused man turned out to be a hit. After all, if mental disorders have the face of Bradley Cooper, they may not be as scary as one is used to thinking about them.
"Silver Linings Playbook" – cinema tames mental disorders
Of course, "Silver Linings Playbook" is not only a pair of main characters, but also other great acting performances. Robert De Niro in the role of Patrizio, an obsessive fan of his beloved team and at the same time a loving parent trying to support his suffering son, is another masterpiece in his work, also against the background of the father figures he plays. Jacki Weaver as a woman who has to cope for years with the foibles of an unpredictable husband and son, escaping into compulsively preparing tasty snacks for the game, is also a masterpiece. Each character in Russell's film has to face his or her own demons, but none is taken out of tragedy; rather, they all have comedic features. This is one of the strategies used by the director to tame mental disorders, which is what "Silver Linings Playbook" is primarily about.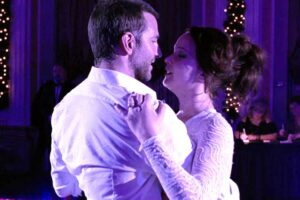 In making the film, Russell referenced his own experience with his son, who struggled with this type of problem. He is also an ardent advocate of autism research and support for mental health care. Of course, the director based the entire story on Matthew Quick's 2018 novel. Interestingly, the book's author also drew on his own experiences in the book. Russell made some significant changes from the original. This is because in the book Pat is in a psychiatric hospital for several years, while in the film he is less than a year. Thanks to this subtle shift, the protagonist's disorders do not seem as profound as in the case of his novel counterpart. They are softened, and thus may meet with greater acceptance by viewers.
Significantly, the picture refers to the title's fashionable philosophy of positive thinking, which seems to be treated somewhat ironically in many places. After all, it turns out that if it is to have a good effect, it cannot be a ready-made template for behavior. On the contrary, positive thinking is about accepting in ourselves and others all that helps us cope with everyday life, which means quirks and neurotic behavioral manifestations. To use Tiffany's language, positive thinking is looking out for and reading the signs the world gives us – the friendship and love we receive from loved ones. Thus, the specific message of "Silver Linings Playbook" seems to be the idea of taming various mental disorders, in which cinema plays a special role. Unlike depressing books like Hemingway's "A Farewell to Arms" or William Golding's "Lord of the Flies," which Pat and Tiffany banish from their homes, the task of cinema is to create uplifting stories, giving people faith in a good ending, which will be like a guidebook – "Silver Linings Playbook".
Literature:
"Silver Linings Playbook" – review, The Guardian, November 2012.
Manohla Dargis, "The Calm Before the Kablooey," in The New York Times, November 2012.