"Snatch" – British Gangster Comedy Phenomenon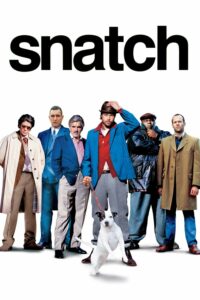 Title: "Snatch"
Release Date: 2000
Director: Guy Ritchie
Cast: Brad Pitt, Jason Statham, Stephen Graham, Vinnie Jones, Dennis Farina, Benicio del Toro, Alan Ford
"Snatch", directed by Guy Ritchie, is a cult crime comedy that is a phenomenon of sorts. The thoroughly British film won the hearts of international audiences, alternately delighting and laughing at the English humor, manner and language. The qualities of the film are increased by a select (and not at all exclusively British!) cast, to mention Jason Statham, Brad Pitt and Benicio del Toro.
"Snatch" – a convoluted detective story with great acting
"Snatch" is a Guy Ritchie movie in the style of the earlier, equally enthusiastically received "Lock, Stock and Two Smoking Barrels" (1998). Thus, here we have an extremely convoluted criminal intrigue, providing an excellent opportunity to present on screen a series of gags, misstatements and funny dialogues. A certain gang comes into possession of a precious diamond, which is smuggled for trade from Antwerp to London. Soon, however, the courier (Benicio del Toro) ultimately traveling with the gem to New York is murdered, and the stone becomes an object of desire for various criminal groups. In the pursuit of the diamond, the paths of Jewish merchants from America, dangerous amateur boxing fighters, Irish gypsies, the Russian Mafia and Jamaicans, among others, will cross. The protagonist will also turn out to be a certain clever dog, who uncontrollably devours everything in sight….
"Snatch" is certainly a display of acting artistry. Both this and Guy Ritchie's previous movie launched a true star of gangster cinema – Jason Statham. Here the actor plays a boxing fight promoter who gets involved in deals with the dark underworld that sets the results of the clashes in the ring. Bad luck that the Irish gypsy he engages (Brad Pitt), turns out to be indestructible and unscrupulous to lose on assignment, which causes both of them to get into quite a bit of trouble. Pitt's performance here is phenomenal, and the actor comes off remarkably natural in a comedy convention, like a born cloak-and-dagger. Also memorable are Alan Ford as the ruthless Brick throwing people to the pigs or Vinnie Jones in the role of Bullettooth Tony.
"Snatch" – quintessentially British and a pastiche of gangster cinema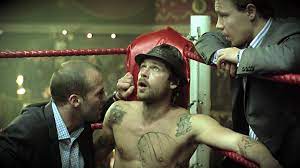 "Snatch" captivates, first of all, with its specific atmosphere. Britishness is present here at every level: specific language, black, sharp humor and English style of being. Brick sipping tea with milk in between disgusting actions, absurd dialogues of Jamaicans with polite etiquette just before the cash heist or impeccable attire of English gentleman Tommy (Stephen Graham) make up a collection of emblems associated with Britain. Of course, the whole is complemented by the scenery of London streets and tenements and the indispensable cockney leading to misunderstandings with foreigners seemingly communicating in the same language. And it is this down-to-earth British movie that audiences around the world have come to love, seeing in it both what arouses sympathy in the Isles and what is the subject of popular jokes.
"Snatch" by Guy Ritchie is a production for both lovers of gangster cinema and its comedy parody. Indeed, the convention of the film constantly balances between sentiment for the master positions of the genre from the sixth and seventh decades of the twentieth century and their parodistic mirror. For this reason, the pictures of the British director have been juxtaposed with the cinema of Quentin Tarantino. Undoubtedly, they are united by a postmodern mishmash of form, a penchant for pop-cultural quotations and a constant play with emotional tones.
"Snatch" is still watched to this day with genuine admiration for the lightness of the direction, great acting and a solid dose of English humor, how refreshingly effective for the gray everyday life.