"Taxi Driver" – Demons of America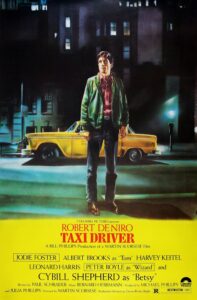 Title: "Taxi Driver"
Release Date: 1976
Director: Martin Scorsese
Cast: Robert De Niro, Jodie Foster, Albert Brooks, Harvey Keitel, Cybill Shepherd
"Taxi Driver" by Martin Scorsese is one of the most famous American films, whose lasting position in the history of cinema was ensured by the disturbing atmosphere of New York at night, the confrontation with the trauma of Vietnam, the music of Bernard Herrmann and, above all, the phenomenal performance of Robert De Niro. It is thanks to his ambiguous role that the picture refers to American myths in a remarkable way, but also comments on the glorification of violence characteristic of American film.
"Taxi Driver" – the story of Travis
The plot of "Taxi Driver" is set in 1973, when Travis Bickle (Robert De Niro), after returning from the Vietnam War, is hired as a driver of a New York cab. The man suffers from chronic insomnia, so he prefers to drive at night. In addition to driving a cab, his cure for sleeping problems is regular visits to theaters playing pornographic films. Travis quickly learns the dark face of the metropolis, which is rife with crime, prostitution and illegal business. One day, however, he notices a bright spot on the dark map of New York, and it is a beautiful woman, Betsy (Cybill Shepherd), all in white, like an angel heading to the Manhattan office of a senator running for president.
Alienated and having trouble communicating, Travis plucks up the courage to invite his girlfriend to a movie theater. However, the dream date ends in fiasco, as the man offers Betsy a crude porn movie, which is interpreted by her as a total lack of respect. Broken by the woman's intransigence, Travis begins to fall into increasing irritation. Eventually, he decides to bring order to the city. He buys a whole set of weapons and prepares to assassinate Senator Palantine. At the same time, he accidentally meets a teenage prostitute, Iris (Jodie Foster), whom he wants to help escape from her abusive pimp, Sport (Harvey Keitel). When the plan to assassinate the senator gets complicated, the aggression-charged Travis sets off for the squalid hotel where the girl serves customers and commits a bloody massacre on her "handlers." Sam is also seriously injured. Unexpectedly, when he wakes up in the hospital, he finds that he has been hailed as a hero and the savior of Iris. The girl returns to her conservative provincial parents, from whom she previously ran away, and Travis is thanked by everyone. In the last scene, the cab driver drives Betsy home and has a friendly chat with her.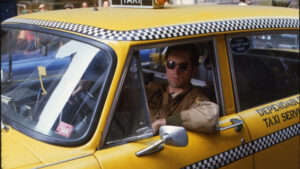 The movie "Taxi Driver" – Scorsese on the ills of America
"Taxi Driver" did not immediately gain widespread recognition. Suffice it to mention that when it was awarded the Palme d'Or at Cannes, the film was whistled by the French audience. Scorsese's picture is certainly disturbing and ambiguous, and one can see in Travis' story a kind of inconsistency in his behavior and motivations. The protagonist remains an enigma until the end – we don't know, for example, whether the assassination plans were just a one-off episode, cured by a bloody discharge of accumulated aggression, or the opposite. Nevertheless, Scorsese manages to create a film that evokes America's greatest demons.
Travis' primary generational experience is his participation in the Vietnam War. After returning home, the protagonist is unable to cope with his emotions and the trauma he experienced, a sign of which is chronic insomnia and a sense of emptiness and aimlessness. Travis is, of course, one of many – a veteran left to his own devices, sidelined from history and wishing that his actions had some deeper, socially perceived meaning. "Taxi Driver," however, refers not only to the Vietnam episode, but to the crisis of American culture in general. For here we see a confrontation with the myths inscribed in this tradition, such as the pursuit of success, variously understood, and thus of standing out from others. Travis has the ambition to be an exceptional individual who will do "something great."
The pervasive corruption of the city is at odds with his, we might assume, traditional upbringing. Conservative values play a not insignificant role in Scorsese's film. For they are also evoked in the story of Iris, who runs away from her orthodox parents, and Travis wants to bring her back into the bosom of the family. The obsession to "cleanse" New York City of filth has clear religious connotations, though of course this is a complete perversion of Christian ideas. Travis' story also echoes an ironic commentary on the glorification of violence, for here is a man committing a bloody slaughter becoming a national hero.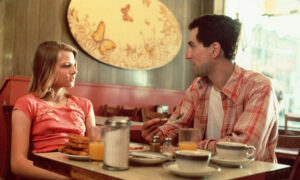 "Taxi Driver" and the inspiration of 1940s black cinema
"Taxi Driver" is a work that went down in the history of cinema also because of its formal characteristics. The director's obvious fascination with the aesthetics of 1940s film noir is evident here, so we have a distinctive iconography, which includes a portrait of the city at night, the glow of neon lights, nostalgic shots of a car traversing the maze of New York streets and an inherent gun. Travis buys an entire arsenal of revolvers and shotguns: a magnum, a Colt 38, a Walther and a twenty-five-gauge self-revolving rifle. The scene in which the protagonist aims at the mirror, uttering the famous "You talking to me?" line, is already a cinema classic.
New York City plays a special role in "Taxi Driver." This is Scorsese's beloved city, brilliantly portrayed in poetic, expressionistic shots, to the sound of Herrmann's beautiful, Oscar-nominated music (the composer died shortly after completing work on the film). Particularly memorable are the jazz compositions that introduce the viewer to the atmosphere of nightlife and the undefined promise waiting around the corner. However, New York is also a space metaphorizing the great metropolis as a kind of hotbed of evil, where demoralization is rampant. It is not without reason that Iris, who comes from the province, returns to her parents in the finale and leaves the city, which means being cut off from its dark nature, which exerts a destructive influence on people.
"Taxi Driver" – a brilliant role for De Niro
Nevertheless, there would be no success of "Taxi Driver" without the legendary role of Robert De Niro, who builds a complex, mysterious and fractious character. Thanks to his amazing craftsmanship, the inconsistencies in the character's behavior gain inner motivation and credibility. Travis, as played by De Niro, is above all a completely lonely man, locked in his own traumas and obsessions, desperately trying to establish a thread of understanding with the world. Other great performances are also noteworthy, such as the performance of young first-time Oscar nominee Jodie Foster and Harvey Keitel, who plays her scowl. "Taxi Driver" remains a deeply ambiguous film about the crisis of culture and national myths and the psychotic trance of an alienated individual.
Literature:
A. Garbicz, "Kino, wehikuł magiczny. Przewodnik osiągnięć filmu fabularnego. Podróż piąta 1974 – 1981". Kraków 2009.