The 20 Heist and Bank Robbery Movies of All Time
Bank robbery movies are one of the more popular varieties of thriller cinema, belonging to the "heist movie" subgenre. The motif of stealing big money often enters into a marriage with other story conventions. Indeed, there are often also a love plot, comedy, criminal mystery or existential drama. Stories about bank robberies are told from different perspectives: the thieves planning their big heist, the detectives pursuing them, or random participants in the whole incident.
Robbing a large financial institution is an extremely graceful cinematic subject: it allows to develop an interesting intrigue, provides viewers with great excitement and an intellectual puzzle that requires following the criminals' complex plans. In the background, meanwhile, lurks the universal dream of acquiring big money, providing a life free from mundane worries. However, not everything always goes as intended… We present 20 good bank robbery movies.
The best bank robbery movies
1. "Dog Day Afternoon", 1975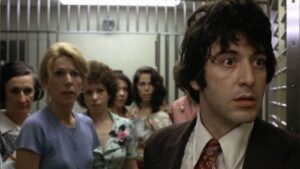 One of the best films about a bank robbery and a classic of gangster cinema – "Dog Day Afternoon", directed by Sidney Lumet. The picture, although based on fact, presents a very unusual story of a heist on a financial institution. Sonny (Al Pacino) and Sal (John Cazale) carry out a long-planned robbery. However, it turns out on the spot that there is no money in the vault, and the police very quickly surround the building where the thieves are staying with their hostages. The further course of events thus depends only on the ingenuity of the criminals.
Awarded an Oscar for Best Screenplay, "A Dog Day Afternoon" (for Frank Pierson) is an excellent detective story with great leading male roles. The film not only presents an interesting intrigue, but is also a great psychological cinema. There is also no shortage of observations of social mechanisms and actions of the justice system, as well as an existential portrait of human drama in the face of crisis.
2. "The Gateway", 1972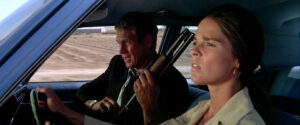 Another item on our list of bank robbery movies – "The Gateway", directed by Sam Peckinpah. This is the story of Doc McCoy, a convicted robber, who has a certain obligation to perform. A certain Jack Benyon arranges for the hero's early release from prison, but in return he demands quite a favor. McCoy, with the help of two other men, must rob a bank. Unfortunately, things get complicated when one of the participants in the robbery kills a guard and the other tries to liquidate Doc. The wounded hero and his wife therefore make a desperate attempt to escape to Mexico. In turn, his footsteps are followed by the police and revenge-hungry principals.
The leading role in "The Gateway" is played by the phenomenal Steve McQueen, while his wife is played by Ali MacGrow. Both creations are show-offs, and the film itself combines the convention of sensationalism with attractive road cinema. The Golden Globe-nominated great music by Quincy Jones also went down in history.
3. "Bonnie and Clyde", 1967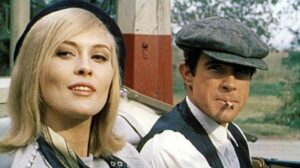 This is a classic of robbery and bank robbery movies – "Bonnie and Clyde" directed by Arthur Penn. Based on a factual story from the 1930s, it has become one of the most famous movie gangster stories. Clyde Barr, after being released from prison, meets the beautiful waitress Bonnie under very peculiar circumstances: he tries to steal her mother's car. Almost instantly the heroes fall for each other and embark on a journey together, during which they rob and kill. One day, however, the dangerous lovers fall into a police ambush….
In the movie, which won two Academy Awards, legendary roles were played by Faye Dunaway and Warren Beatty. The Academy Award was won by a supporting actress: Estelle Parsons. The creators of the picture, which returns to the classics of 1930s gangster cinema, no longer had to fear censorship restrictions in the era of cultural contestation of the 1960s. A pair of beautiful murderers was portrayed in a romantic way and equipped with a deeper motivation to fight against an unjust system in which heartless banks steal from poor citizens. Penn created a legend of heroes on screen, whose fate is foreshadowed by a line sent by Bonnie to the press: "Some day they'll go down together/And they'll bury them side by side. To few it'll be grief, to the law a relief/But it's death for Bonnie and Clyde".
4. "Set It Off", 1996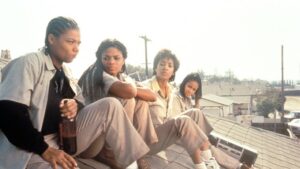 A very interesting and memorable bank robbery movie. "Set It Off", directed by F. Gary Gray is the story of four black women whose hard lives and huge financial problems lead them to decide to rob a financial institution. Frankie, Cleo, Stony and Tity, working at night at a cleaning company, jointly come to the conclusion that only crime can get them out of their predicament. Drawing up a plan is made easier by the fact that Frankie, who was fired from her job at the bank, is well acquainted with the activities of the institution. However, the implementation of the established project may turn out to be much more difficult than it seemed.
Great acting performances in "Set It Off" were created by Jada Pinkett Smith, Queen Latifah, Vivica A. Fox and Kimberly Elise. The film from the director of such hits as "The Negotiator" and "The Italian Job" is an engaging drama with in-depth sociological observations. It is a portrait of America, which is not a paradise for everyone, but is sometimes a place of striking and impossible inequalities. The famous En Vogue song "Don't Let Go" comes from the film.
5. "Vabank" (1981)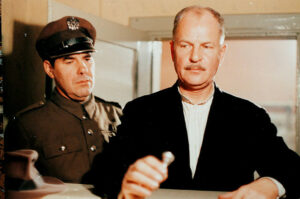 A famous Polish movie about a bank robbery – "Vabank" – the debut of Juliusz Machulski. The plot of the cult criminal comedy is set in 1930s Warsaw. Henryk Kwinto (played by Machulski himself), a notorious bank robber, is just getting out of prison, where he was denounced by Gustav Kramer (Leonard Pietraszak), a bank owner. So he decides to take revenge on the traitor.
Modeled on George Roy Hill's "The Sting," the film won unheard-of praise from Polish audiences. Sharp humor, expressive characters, and a retro atmosphere evoking sentiment for the interwar period particularly appealed to everyone.
6. "Heat", 1995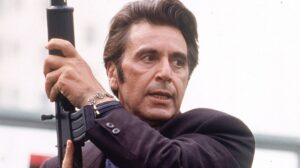 This movie can not be missing from the list of the best heist movies. "Heat" by Michael Mann, with phenomenal performances by Robert DeNiro (as a dangerous criminal planning the latest heist), Al Pacino (in the role of Lieutenant Hanna trampling the gang) and Val Kilmer, Tom Sizemore and Jon Voight, is a classic of cinema history. Neil McCauley has many armed robberies on his conscience. However, he decides that it's time to retire from the industry and, with a sizable sum of money, go into a peaceful retirement. Before that happens, however, he is about to commit one last crime: a bank robbery. His trail, however, is followed by a vigilant detective.
It is in "Heat" that the two great stars of gangster cinema: Al Pacino and Robert DeNiro first appeared on screen together. It is true that earlier both appeared on the set of Francis Ford Coppola's "The Godfather," but it is only in Michael Mann's film that they can be seen in a joint scene.
7. "Taxi" (1998)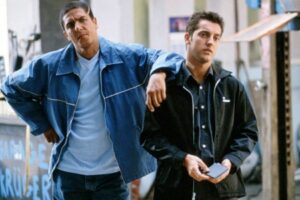 Luc Besson's great comedy series was launched in 1998 with a film about the daring pursuit of a dangerous gang of robbers who are robbing bank after bank. It's a very unusual chase, as a policeman (played by Frederic Diefenthal) leads it from the back seat of a cab. In turn, behind the wheel sits a former pizza delivery man and current cab driver, a certain Daniel (Samy Naceri), caught by the law enforcement officer for speeding. In exchange for a gift of punishment, he is expected to help the policeman catch a gang of thieves.
The two César Award-winning film "Taxi" was wildly liked by audiences and lived to see several sequels. The suspenseful action, great gags, funny dialogues and characters, and, of course, crazy chases – all this made the audience love the whole series and it is still quite popular.
8. "Banklady", 2013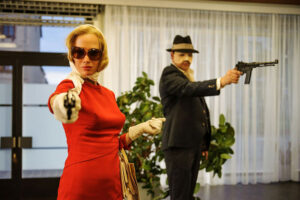 Original German movie, the plot of which revolves around bank robberies. The picture is set in the 1960s in West Germany. The main character of the film is Gisela Werler (Nadeshda Brennickle), a young woman who dreams of leaving her small town, where she leads a boring and predictable life. When one day the girl meets a bank robber cab driver, Hermann Wittorff (Charly Hubner), she decides to join him and try a completely different existence.
"Banklady" presents not only an interesting criminal story, but also a psychological portrait of the leading heroine and an interesting portrait of West Germany. The film was hailed as the German version of "Bonnie and Clyde," especially since, like the American story, it was based on fact. An authentic pair of villains were caught and sentenced to prison: Gisela for 9, her partner for 15 years. While in custody, they married, and after being released, spent the rest of their lives together.
9. "The Ladykillers", 1955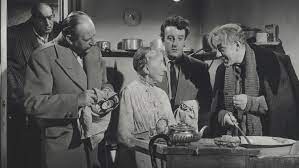 A crime comedy classic, Alexander Mackendrick's Oscar-nominated film for William Rose's Best Screenplay, "The Ladykillers". Mrs. Wilberforce (Katie Johnson) is a stable elderly person who rents an apartment to a talented musician, Professor Marcus (Alec Guinness). The man is often visited by other professional colleagues to practice together before a performance. One day, however, Mrs. Wilberforce realizes that she is dealing with a hoax. For instead of the supposed rehearsal of instruments, a set record is playing in the room, and the men are engaged in a completely different profession than they declared. Namely, they are planning a bank robbery.
The British movie, which won two BAFTA statuettes, stars Herbert Lom, Cecil Parker, Peter Sellers and Danny Green in addition to the aforementioned pair of actors. The Ealing studio's picture operates with black humor and the grotesque while providing a commentary on the post-war situation in Britain. A whiff of nostalgia for the conservative old social order is evident here.
The best heist movies
10. "The Whiskey Bandit", 2017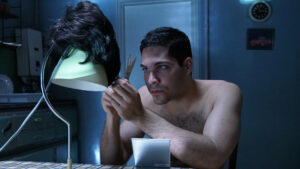 Another in our list of bank robbery movies is a picture based on facts. The work of Nimród Antal, director of "Controllers," is the story of a certain Attila Ambrus, nicknamed the Robin Hood of the Eastern Bloc. A man who has ordinary dreams, but zero prospects of fulfilling them in the post-communist country of the 1990s, decides to rob banks. And since he does it not only with bravado, but also with elegance (he leaves behind only the smell of whiskey and sends the policemen champagne) he quickly becomes a public hero. The leading role in "The Whiskey Bandit" is played by Bence Szalay, and the pursuing detective Laszlo is played by Zoltan Schneider.
11. "Stander", 2003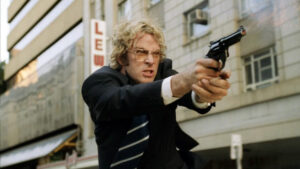 This movie was also inspired by true events. "Stander" directed by Bronwen Hughes, tells the story of a police captain who, while working in South Africa in the 1980s, decided to engage in criminal activity at the same time. He carries out high-profile bank robberies, only to later appear on the scene in the role of a law enforcement officer securing traces of the burglary. One day, however, Stander is arrested and sentenced to a long prison term. In custody, he meets several criminals similar to himself, with whom he escapes. Soon they all carry out a series of bank heists, and their activities under the banner of "Stander's gang" gain legendary fame.
Thomas Jane, known, among others, from the film "Punisher," played the lead role, and his father the general was played by Marius Weyers. Other characters were created by Dexter Fletcher and David Patrick O'Hara. "Stander" is not only a crime plot based on facts, but also a broader social context. For in the background is drawn the politics of apartheid in South Africa and the gross inequalities that cause the Stander gang's activities to be seen by the country's residents as a rebellion against authoritarianism and a fight against an unjust system.
12. "The Fugitives", 1986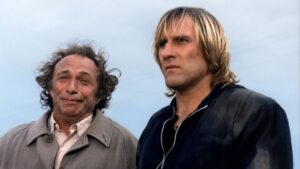 A funny French comedy about a bank robbery – "The Fugitives", directed by Francis Veber. The main character of the film is the father of a sick girl, Francois Pignon (Pierre Richard), who desperately needs money for her treatment. In desperation, he decides to rob a bank. During the heist, fleeing from the police, he takes a random man hostage. It quickly turns out that this is Jean Lucas (Gerard Depardieu), a criminal who has just been released from prison after serving a sentence for a series of bank robberies… Their trail is followed by Commissioner Duroc (Maurice Barrier).
Francis Veber has made many popular French comedies. In 1989 he also directed an American remake of the comedy, under the title "Three Fugitives." It starred Nick Nolte, Martin Short and Alan Ruck.
13. "Den of Thieves", 2018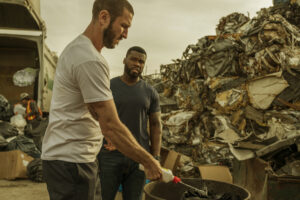 A suspenseful and interesting plot about a big bank robbery. "Den of Thieves" by Christian Gudegast is the story of a dangerous shaykh of criminals, headed by the extremely resourceful and intelligent Ray Merriman (Pablo Schreiber). The man develops a plan for a spectacular bank robbery. The heist is supposed to provide both the leader and his helpers with a veritable mountain of money. However, when certain details of the project leak to the police, Nick Flanagan (Gerard Butler), famous for his uncompromising methods, falls on the trail of the gang.
"Den of Thieves" is great thriller cinema in style. A charismatic criminal finds here a worthy opponent – an equally brilliant law enforcement officer. In turn, the psychological duel is not just an intellectual puzzle, but a story full of emotions and twists, the finale of which remains uncertain until the end.
14. "The Town", 2010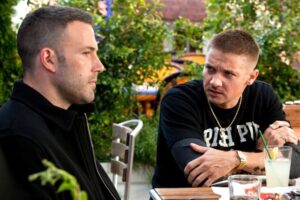 Ben Affleck's original bank robbery film, "The Town", also starred him. He played a professional criminal who, like his father before him, makes a living from dangerous crimes. During a bank robbery, Doug and his companions take a hostage. Claire Keesey (Rebecca Hall) soon regains her freedom, but lives in the shadow of trauma after experiencing an extremely dangerous situation, while the robbers know her personalities and address. Doug begins to take an interest in Claire, and unaware of his true identity, the woman falls in love with him with reciprocity. However, this relationship will be a huge danger for both of them.
"The Town" is for those who are looking for diversity in cinema. For here we have a brilliantly conducted criminal plot, romance, thriller and psychological film in one. And on top of that, great acting and an interesting picture of Boston. The production paints a portrait of the city's Irish community. The film is based on Chuck Hogan's novel "Prince of Thieves".
15. "The Place Beyond the Pines", 2012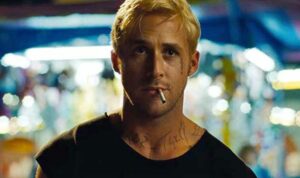 Derek Cianfrance's movie with a good acting cast is a good crime movie with a bank robbery plot. The main character of the story is Luke (Ryan Gosling), who becomes a bank robber gangster under the influence of a series of life events. Working as a motorcycle stuntman in the circus, the man one day learns that he has a son from a relationship with the girl he left a year earlier. This completely changes his approach to life. Luke wants to earn the title of father and provide for his child. So he leaves the circus and, persuaded by Robin (Ben Mendelsohn), starts robbing banks. This intertwines his fate with a certain policeman, Avery Cross (Bradley Cooper). Luka's former partner, Romina, is played by Eva Mendes.
Derek Cianfrance previously made another film with Ryan Gosling – a moving moral drama – "Blue Valentine". There, too, the actor played a man who under the influence of the role of his father undergoes a profound metamorphosis. "The Place Beyond the Pines" is a cinema in which the hand of the same director can be seen: interested in existential themes.
16. "Point Break", 1991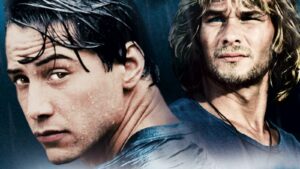 "Point Break" is our next suggestion, which we include in the list of good heist movies. Unusual scenery for this type of cinema: paradisiacal California beaches and high ocean waves, in turn, enhance the pleasure of the screening. A gang of criminals carries out a series of bank robberies in Los Angeles. The thieves always hide their faces under the masks of American presidents. All the clues lead to a group of surfers, headed by a certain Bodhy (played by Patrick Swayze). The case is entrusted to a rookie agent, Johnny Utah (Keanu Reeves). He is to infiltrate the closed environment, but to do so, he must first master the art of surfing. His coach becomes the beautiful Tyler (Lori Petty).
"Point Break" is a movie that will certainly not disappoint lovers of fast-paced action, chases and dangerous adventures. It is a production of the talented American director Kathryn Bigelow, who knows how to make strong, interesting cinema.
17. "Inside Man", 2006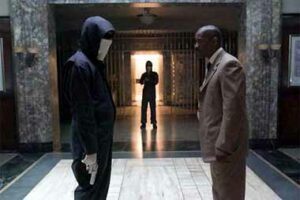 This film by Spike Lee attracts attention with its original handling of the plot of the bank robbery. This is because it is solved in a very surprising way, and the main asset of the heist turns out to be precisely the precise and well thought out plan in the smallest details. The robbery is carried out by Dalton Russell (played by Clive Owen), who takes hostages and negotiates hard on the terms of their release. The case is handled by detective Keith Frazier (Denzel Washington), and the bank owner asks seasoned negotiator Madeliene White (Jodie Foster) for help.
An all-star cast is one of the main strengths of "Inside Man". On the screen we can see a whole plethora of great actors, who, as usual, do not disappoint, but are able to bring out a whole range of emotions from their characters. In addition to the aforementioned stars, Willem Defoe and Christopher Plummer starred here.
18. "Hell or High Water", 2016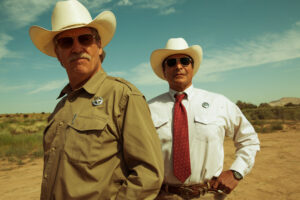 David Mackezi's film "Hell or High Water" is an interesting proposition for lovers of crime cinema. The action takes place in Texas. Two Howard brothers Toby (Chris Pine) and Tanner (Ben Foster) rob a bank. The men are desperate because they are losing the family farm due to debts. They flee with the loot, but their trail is set off by two Texas Rangers: Marcus (Jeff Bridges) and Alberto (Gil Birmingham).
"Hell or High Water", in addition to an interesting "heist movie" plot, also offers an interesting picture of an America plunged into economic crisis. The barren lands of Texas are here the perfect setting for people's bitter dreams of wealth, which, instead of realization, turn into skyrocketing debts that cannot be repaid and lead the characters down the path of hopelessness and crime.
19. "Going in Style", 2017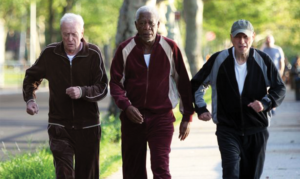 Zach Braff's hilarious comedy tells the story of a daring bank robbery by a trio of retirees, true to its title – "Going in Style". Joe Harding (Michael Caine), during one of his visits to his bank, witnesses a successful theft of a large sum of money. As he falls into debt and the bank is about to seize his house, which he wanted to leave to his daughter and granddaughter, the man starts thinking about doing a similar deed. He introduces the idea to his friends: Willie (Morgan Freeman) and Albert (Alan Arkin), who are also in desperate need of money. After all, Willie can't afford to finance a kidney transplant, and Albert would like to at least be able to afford an apartment on his own in retirement and a relationship with nice Annie (Ann-Magret). When, in addition, the payment of their pensions is stopped, there is no more to look forward to.
But how can retirees cope with a bank robbery? To find out, you have to watch this criminal comedy with an all-star cast.
20. "The Bank Job", 2008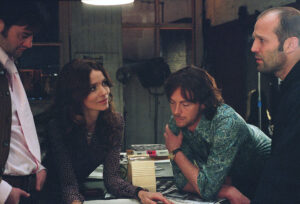 In the ranking of the best heist movies, Roger Donaldson's "The Bank Job" can certainly not be missed either. The plot of this production was based on facts. Well, in 1971 there was a high-profile bank heist in London. Nevertheless, it is significant that the police concealed the evidence collected in this case, and the criminals have not been found to this day. It was these events that were shown in the film, while the most interesting issues were the behind-the-scenes ones, i.e. the compromising materials kept in hiding places by politicians and people from the royal family.
Probably for this very reason, to this day the whole heist has not been officially explained. At least that's according to the filmmakers, who reportedly reached the very perpetrators of the whole mess and have first-hand information. The movie starred a plethora of great actors: Jason Statham, Saffron Burrows, Stephen Campbell Moore or Daniel Mays.
Share "The 20 Heist and Bank Robbery Movies of All Time" with your friends.