The 25 Best Romantic Comedies of All Time
We all love happy stories about love. Romantic comedies were invented so that we can believe that affection is waiting for each of us and can change our lives at any moment. Here is a ranking of the 25 best romantic comedies in film history according to OldCamera.
Romantic comedy – a brief history
Romantic comedy is a subgenre that is characterized by a combination of characteristics of comedy and melodrama: it entertains and moves at the same time. One of its most important distinguishing features is also the presence of a love plot. The golden period of romantic comedy was the twentieth century from the mid-1930s to the mid-1950s. It was then that Ernst Lubitsch, Frank Capra, George Cukor or Billy Wilder created. It was also the time of legendary icons of the cinema, such as Marilyn Monroe, Katharine Hepburn, Spencer Tracy and Audrey Hepburn.
The renewed period of immense popularity of romantic comedies began in the 1990s. Interestingly, many of the newer productions of the genre at that time referred to the old plot patterns. Their undisputed stars became Meg Ryan, Tom Hanks, Hugh Grant, Sandra Bullock, Richard Gere, Julia Roberts or Cameron Diaz.
The setting of American romantic comedies is usually a city (mainly New York), where the characters accidentally find great love. The obstacles that stand in the way of their happiness are successfully overcome (for example, he is very wealthy, and she is an ordinary girl or prostitute). Belief in destiny also plays an important role here, but sometimes the characters only have to mature in their feelings to see that what they are looking for is at hand. In films belonging to this genre, love is primarily romantic in nature – so sex does not play a key role. The touching melodramatic aspect is also an important element, hence the motif of the loss of a loved one often appears (such as the death of a fiancé in "Ghost").
Best romantic comedies
1. "Some Like It Hot" (1959)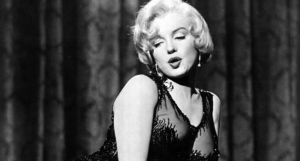 "Some Like It Hot" (1959) is an unforgettable romantic comedy by Billy Wilder that not only belongs to the classics of world cinema, but still entertains to tears today. It depicts the story of two jazz musicians who go into hiding from menacing gangsters in a female disguise. The men end up in an all-female music band, where one falls in love with a beautiful blonde, and the other becomes the chosen one of an eccentric millionaire. Marilyn Monroe in the role of sweet (nomen omen) Sugar is the quintessence of sex appeal and femininity. And Jack Lemmon, as saxophonist Joe, makes himself known as the embodiment of a somewhat shy romantic everyman.
In this hilarious comedy of errors Wilder winks at us – after all, "nobody's perfect!". The movie follows the pattern of "screwball comedy" and is considered a masterpiece of the genre. In addition to hilarious gags and a romantic plot with the phenomenal MM, the songs performed by the star, especially the sensual "I Wanna Be Loved By You", are enshrined in the history of cinema.
2. "Roman Holiday" (1953)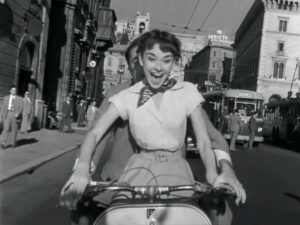 Among the romantic comedies of all time, "Roman Holiday" (1953) cannot be missed. This, in turn, is a great film by William Wyler. It starred Audrey Hepburn, who played the role of Princess Anna, who comes to Rome for a holiday. During the vacation, the girl starts a fiery affair with a handsome American (Gregory Peck), which, of course, her family will not like.
Audrey Hepburn was awarded an Oscar for her legendary role early in her career. On screen, she displayed all the qualities that have become the hallmark of her acting: a combination of girlish playfulness and innocence with aristocratic dignity, not to mention her distinctive beauty. The Oscar was also awarded to Edith Head for costumes and Dalton Trumbo for the screenplay. Interestingly, although "Roman Holiday" is one of the classics of the genre, it is not a typical realization of the pattern due to its lack of a happy-ending.
3. "How to Marry a Millionaire" (1953)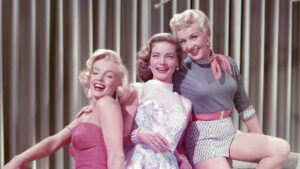 "How to Marry a Millionaire" (1953) is another film starring Marilyn Monroe. It was directed by Jean Negulesco and featured Lauren Bacall and Betty Grable alongside MM. All three heroines are alluring models who try to hunt down a wealthy husband in New York. However, as is usually the case, love can thwart everyone's plans.
What we have here is a classic romantic comedy, in which true feeling turns out to be more important than money. The film won an Oscar nomination for costume design, and also competed for a BAFTA statuette and a Directors Guild of America award. It represents the golden series of the genre from the 1950s. Another legendary romantic comedy – "Gentlemen Prefer Blondes" (1953) by Howard Hawks. This is also another work with Marilyn Monroe, who, along with Jane Russell, plays the roles of singers traveling by ship to Paris. Lorelei, in the French capital, is to marry the son of a millionaire, and at the same time wants to find a suitably wealthy candidate for her friend's hand on the ship. Nevertheless, the women are unaware that they are being followed by a private detective.
4. "Gentlemen Prefer Blondes" (1953)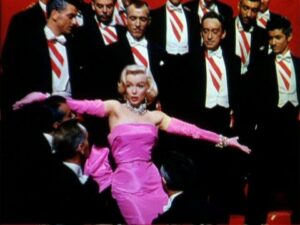 Another legendary romantic comedy – "Gentlemen Prefer Blondes" (1953) by Howard Hawks. This is also another work with Marilyn Monroe, who, along with Jane Russell, plays the roles of singers traveling by ship to Paris. Lorelei, in the French capital, is to marry the son of a millionaire, and at the same time wants to find a suitably wealthy candidate for her friend's hand on the ship. However, the women are unaware that they are being followed by a private detective.
It was in this film that MM performed the famous song "Diamonds Are Girl's Best Friends". Her image in the famous pink creation, dancing among delighted men, has become a cinema legend. Hawks' comedy has a musical character, as music and dance play a very important role and become part of the attractive show.
5. "Pretty Woman" (1990)
"Pretty Woman" (1990), directed by Garry Marshall, is remembered as a great performance by the phenomenal Julia Roberts. Here the actress played a prostitute – Vivian, who starts an affair with a wealthy man (Richard Gere). "Pretty Woman" is a classic story of great love breaking all barriers. Roberts' performance is certainly one of the unforgettable ones.
Interestingly, initially the film did not get good reviews, it was accused of promoting materialism, and a positive image of prostitution as objectification of the female body. However, audiences went crazy for this romantic comedy about Cinderella. The film earned half a billion dollars, and the phenomenal Julia Roberts got her second Oscar nomination for it.
6. "Ghost", 1990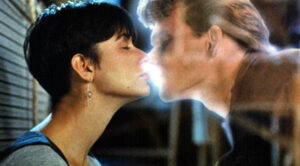 This film emphatically highlights the characteristic marriage of comedy and melodrama in romantic comedies. "Ghost" (1990) is a beautiful, touching film about a feeling stronger than death. Sam (Patrick Swayze) is killed by a gunshot, but returns to earth to his beloved (Demi Moore) to protect her. "Ghost" is one of those films that, even years later, is watched with genuine commitment and a tear in the eye.
The work won two Oscars: for Whoopi Goldberg (best supporting actress) and Bruce Joel Rubin (best original screenplay). Goldberg also received a Golden Globe for her performance. The wonderful romantic soundtrack and the iconic sensual scene in which Demi Moore and Patrick Swayze clay a vessel together have certainly gone down in history.
7. "Bridget Jones's Diary", 2001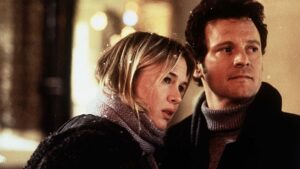 Among the best romantic comedies can also certainly be counted the British film "Bridget Jones's Diary" (2001) by Sharon Maguire. It is a screen adaptation of the novel by Helen Fielding. The main character of the film is a young journalist who goes through one love adventures after another, hoping to find the one. "Bridget Jones's Diary" is a comedy in the English style, with a specific type of humor. Of course, one should not forget about a pair of great actors associated with this very genre, such as Renee Zellweger and Hugh Grant.
"Bridget Jones's Diary" is a reference to the works of the famous English writer Jane Austen. Indeed, Mark Darcy is named after the protagonist of" Pride and Prejudice", and the actor who plays him, Colin Firth, played this character in the popular film adaptation of this novel – the 1995 series. The reference to Jane Austen is not only an homage to her great prose, but also a reference to the original strategies for building humor and subversive romance inherent in it.
8. "French Kiss", 1995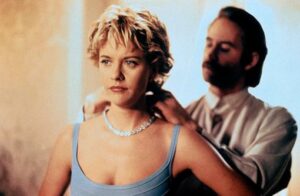 Among good romantic comedies, it is worth mentioning Lawrence Kasdan's "French Kiss" (1995), which won the hearts of viewers with its interestingly conducted love plot. Kate (Meg Ryan) can't cope with her longing for her beloved, who fell in love with another woman during a business trip to Paris. So she decides to move after him, and on the way she meets a handsome Frenchman (played by Kevin Kline).
"French Kiss" tells the story that not every love failure means failure, and sometimes it is not worth fighting at all costs for someone who does not appreciate our devotion. On the other hand, it is love that turns out to be the very value that can make even the most hardened objectors settle down.
9. "Sleepless in Seattle", 1993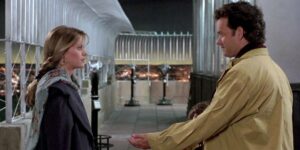 "Sleepless in Seattle" (1993) by Nora Ephron, on the other hand, is a touching story about a man (Tom Hanks) who, thanks to his son, meets the woman of his life (Meg Ryan). For the boy comes up with a special idea – to tell the story of a single father on the radio. The main theme here is the belief in a loving destiny.
This romantic comedy allows you to experience a large dose of emotion and laughter at the same time. An important role in it is played by New York, reduced admittedly to the most emblematic places, such as the Empire State Building, where the characters eventually meet. Two lost souls after transitions in the big city.
10. "What Women Want", 2000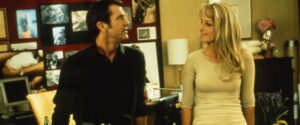 "What Women Want" (2000) is a Nancy Meyers comedy with a sensational role by Mel Gibson, for which he received a Golden Globes nomination. The actor plays a man who, after being electrocuted, begins to hear the thoughts of women. This completely changes his previous worldview. The film confronts the male and female perspectives of seeing reality in an entertaining way.
The movie is an entertaining realization of the age-old dream of resolving gender antagonisms and mutual understanding across divides. It also highlights the contrast between the mask that, in this case, women are forced to wear on a daily basis for various reasons, and their inner thoughts, aspirations and desires. So if men could at least for a moment empathize with women's plight, the world might look very different, the filmmaker seems to be saying.
11. "Kogel-mogel" (1988)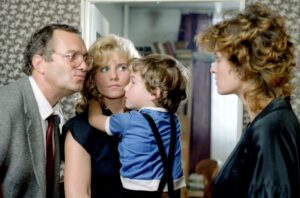 Polish romantic comedies are not the strongest point of domestic cinema. However, "Kogel-mogel" is a special item on this map. Made several decades ago, Roman Załuski's film based on Ilona Łepkowska's screenplay still entertains successive generations of Poles. A young girl from the provinces, Kasia Solska (Grażyna Błęcka-Kolska), runs away from home on the eve of her wedding when she learns that she has been accepted to a higher pedagogical college. Hoping for a great adventure and a worldly life, she arrives in Warsaw, where she becomes the guardian of Mr. and Mrs. Wolanski's son and meets a certain Pawel Zawada (Dariusz Siatkowski). This sets in motion a whole series of funny events.
"Kogel-mogel" won the hearts of viewers not only because of its romantic love plot, but also because of its humor and believable Polish realities. We see here the real Warsaw, the legendary rudeness of the ladies in the dean's office, queues in stores, the real countryside and rural mentality, that is, Poland of the late 1980s and early 1990s. Perhaps this is also the reason why the film has become a kind of phenomenon of Polish cinema, to which one returns with sentiment.
12. "When Harry Met Sally", 1989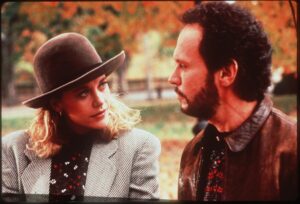 In the ranking of the best romantic comedies can not miss this film. "When Harry Met Sally" by Rob Reiner with Meg Ryan and Billy Crystal is a cult item. The main characters meet on the threshold of adulthood, and then their paths diverge. When by chance they meet after a few years, they have a feeling that they may be connected by something more than friendship.
The movie is a story about the long maturation of love and the discovery of what we care about most. Love doesn't happen here at first sight, and yet it is strong and true. The film won several Golden Globes nominations, and was also awarded the BAFTA Statuette for Best Screenplay. Its author was Nora Ephron.
13. "Green Card", 1990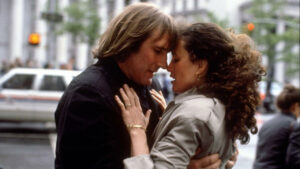 Peter Weir's film is a romantic yet funny story about a marriage of convenience. An American woman (played by Andie MacDowell) dreams of renting an apartment with a green terrace. Unfortunately, only a married couple can move into the coveted place. Georges (Gerard Depardieu), on the other hand, is a French musician who is illegally in the United States, making a living as a waiter. The man dreams of a green card. So the two come up with the idea of getting a marriage of convenience, so that everyone gets what they want. Soon, however, the immigration office decides to check how the young couple is doing.
"Green Card" won two Golden Globes in the categories of best comedy and best actor. The filmmakers here presented a genre-specific image of New York. It appears as a multicultural metropolis, open to otherness and providing unlimited opportunities. It is a city where anything can and does happen.
14. "While You Were Sleeping", 1995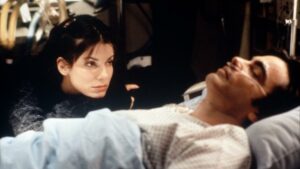 Another item on our list of the best romantic comedies. Lucy (Sandra Bullock) works as a cashier at the train station. One day she risks her life to save a handsome man from dying under a train. When she visits him in the hospital, she is taken for his fiancée. Meanwhile, Jack (Bill Pullman), brother of the comatose man, clearly takes a liking to Lucy. About this is "While You Were Sleeping" by Jon Turteltaub.
It's fair to say that the Golden Globe-nominated film largely follows the pattern of the Cinderella tale, although it's also a comedy of errors. A simple single girl, whose life flits between monotonous work and daily errands, suddenly gains two admirers and can feel like a princess.
15. "There's Something About Mary", 1998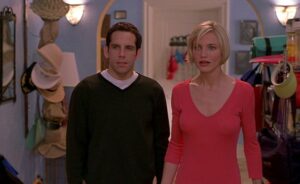 Peter and Bobby Farelly's excellent comedy, "There's Something About Mary", provides both a powerful dose of laughter and presents a love story. A man decides to find his love from his high school days, so he hires a private detective. However, this one also begins to take an interest in the girl. The movie stars Cameron Diaz and Ben Stiller in the lead roles.
Way to go blonde is a film that sits on the border of the romantic comedy genre, the only criterion for belonging in this case would be the combination of comedy and love plot. Undoubtedly, however, the picture operates with a much more predatory type of humor than most films belonging to this convention. The jokes here revolve around sex and deal with the erotic frustrations of modern society.
16. "As Good As it Gets", 1997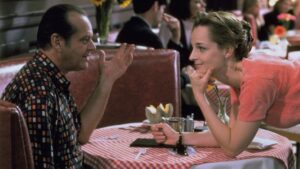 James L. Brooks' romantic comedy "As Good As it Gets" was a spectacular success, as evidenced by two Oscars and three Golden Globes, among other awards. The main character of the film is a neurotic writer Melvin Udall (played by Jack Nicholson), who develops a closer relationship with a waitress from a restaurant where he often comes to eat. Carol (Helen Hunt) raises a sickly son alone and has saintly patience with Melvin's eccentricities and mischief.
It couldn't be better is undoubtedly a masterpiece of the genre. A great script, interestingly conceived characters and a clever story are the assets that make the film won the adoration of viewers and critics. Especially worthy of praise is the outstanding performances of the main characters.
17. "You've Got Mail", 1998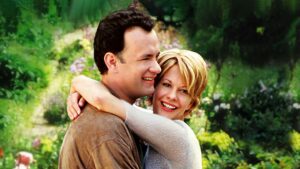 This excellent romantic comedy is the work of Nora Ephron, as writer and director in one person. Once again we are in New York, where a certain Kathleen (Meg Ryan) runs a small family bookstore. However, when a subsidiary of a popular publisher appears in the neighborhood, the girl's business begins to decline. At the same time, the heroine makes a romantic online acquaintance with a man (Tom Hanks).
"You've Got Mail" is an almost faithful repetition of Ernst Lubistch's idea from the film "The Shop Around the Corner" (1940). Only the characters' method of correspondence takes a modern form. The peculiar double identity of the protagonists, who have no affection for each other in real life, while they adore each other in the virtual world, is interestingly drawn here. In passing, a similar situation says a lot about our times.
18. "Love Actually", 2003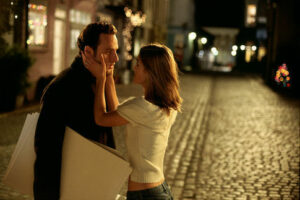 Richard Curtiz in 2003 made both a romantic comedy and a Christmas movie, and to top it off the picture was an unheard of commercial success. To this day, many TV stations repeat it around Christmas. It depicts ten love stories, with love really having many shades here. And moreover, unusually for films of this genre, the ending of some plots is left open. The comedy stars Hugh Grant, Liam Neeson, Emma Thompson, Alan Rickson and Colin Firth, among others.
The best part of "Love Actually" (and the most entertaining) is the thread that binds all the stories together – that of an aging rocker, Billy Mack, who promotes his song on TV. This character focuses the film's overarching message: love comes in very different forms.
19. "The Terminal", 2004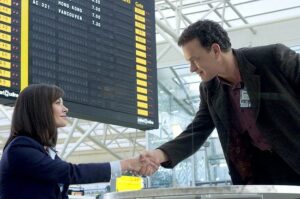 Among good romantic comedies, Steven Spielberg's "The Terminal", starring Tom Hanks and Catherine Zeta-Jones, is worth mentioning. The main character of the story is a newcomer from Eastern Europe who is detained at an American airport because his passport is invalid. This is because it turns out that during Victor's trip there is a coup in his country. The man is therefore forced to live in the airport terminal. Soon, however, he begins to organize his life efficiently and solicit the affection of a beautiful port employee.
"The Terminal" is a funny and warm film about the relationship between people coming from two different worlds. Paradoxically, Eastern European qualities – the ability to cope with all circumstances, cleverness and, above all, romance – arouse the interest of a woman from prosperous America. The airport terminal, like New York in other productions, is a multicultural space where people from the most remote corners of the world meet and have the opportunity to make contact. Navorski's love for an American woman is also a symbolic image of the adoration Eastern Europeans have for the country across the ocean.
20. "Along Came Polly", 2004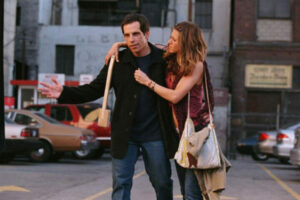 "Along Came Polly" is a hilarious romantic comedy starring a pair of well-liked actors, Ben Stiller and Jennifer Aniston. John Hamburg's film depicts the story of an insurance agent who, after being betrayed by his wife, decides to lead a cautious single life. Unexpectedly, however, in his way stands a childhood acquaintance, crazy Polly, who, unlike Reuben, leads a carefree life, not worrying about what tomorrow will bring.
The clash of completely different personalities in "Along Came Polly" not only has great comic effects, but also inspires reflection on opposites attracting each other. Thanks to a slightly unbalanced girl, the stable financial analyst can gain some distance from life, and she gains a more rational view of the world.
21. "Midnight in Paris", 2011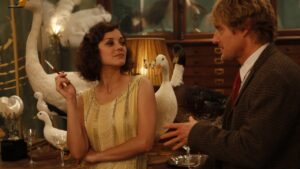 This is an example of the newer cinema of Woody Allen, whose earlier comedies, such as the legendary Anna Hall, were incredibly bold in morals and did not necessarily end well. "Midnight in Paris" is a film set in two time perspectives: in the present day and in the 1920s in the French capital. The motif of the time travel that Bill, about to marry his fiancée Inez, goes on, serves Allen's entrance into his favorite climates. So, the artistic bohemia and its free mores, free of prudery and negating the traditional bourgeois culture as a symbol of the enslavement of the individual.
The movie won an Oscar for Best Original Screenplay, which was written by the director himself. It starred a whole plethora of Hollywood stars: Rachel McAdams, Owen Wilson, Marion Cotilard, Michael Sheen. Paris is certainly an ideal setting for love adventures, which stimulates the imagination and sets in motion real magic.
22. "Ghosts of Girlfriends Past", 2009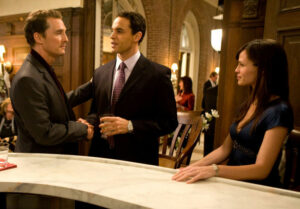 The next item in our ranking of romantic comedies is Mark Waters' "Ghosts of Girlfriends Past". The plot of this film takes place over the course of many years and shows the successive erotic conquests of the unstable in feelings Connor (Matthew McConaughey). The hero's journey through time is triggered by his younger brother's wedding, during which Connor is haunted by the ghosts of former partners.
The film was conceived analogously to Dickens' famous "A Christmas Carol", to which it is often compared. The purpose of the funny but also moving analysis of the past is to make the protagonist realize not only his guilt towards mistreated women, but also to discover what he really wants and who he loves.
23. "It's Complicated" (2009)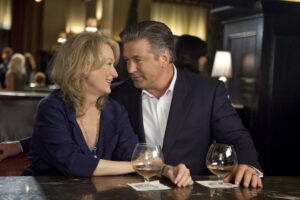 A smart and funny romantic comedy directed by Nancy Meyers with a good cast. The film tells the story of people of mature age who were married years ago. Unexpectedly, as their children grow up and they enter into other intimate relationships, something begins to spark between them again. Starring Meryl Streep, Steve Martin and Alec Baldwin.
"It's Complicated" allows a romantic story to unfold, but at the same time makes us reflect on the age-old philosophical question: "can you step into the same river twice"? Can a relationship based on reheated feelings from years ago, when we were completely different people, succeed? And if so, why did the breakup happen in the first place?
24. "Crazy, Stupid Love" (2011)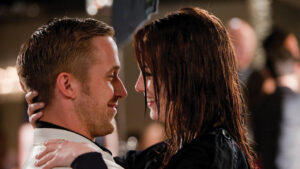 This is one of the most popular American romantic comedies. The film "Crazy, Stupid Love" with Steve Carell, Ryan Gosling, Julianne Moore and Emma Stone took the audience's hearts by storm. Jacob Palmer is a deadly handsome man who professionally deals with seduction – he advises men on how to make them the most desirable object of women's affections. One day he is confronted by Cal, a man recently betrayed by his wife, who is trying to get back on his feet again. Jacob helps him undergo a physical and mental metamorphosis, but when he himself falls into the snare of love, all his tricks will fail.
"Crazy, Stupid Love" in a way deconstructs the rules of the genre. The parodied art of seduction introduces a distance from the typical conventions of romantic films, showing how they "trick" the viewer and build the illusion of a non-existent world. At the same time, however, it turns out that this romanticism turns out to be an indispensable need that cannot be easily given up, just like the belief that true love exists. For since it happens even to skeptics coolly operating all the tools of ars amandi, it can also happen to us.
25. "Something's Gotta Give", 2003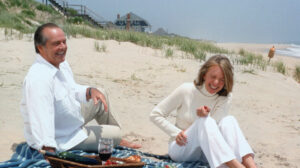 "Something's Gotta Give" is a film that could not be missing from the list of the best romantic comedies. Harry is a man of mature age who is going through a typical midlife crisis: he tries to tame his fear of old age and passing by dating women several decades younger. He and his next choice go to her cottage by the sea, where they intend to consummate the relationship, although the girl's mother unexpectedly joins them. In the course of amorous games, the hero saving his manhood with magic pills, gets a heart attack. During his recovery, he falls in love with his partner's mother, an attractive writer of his age.
Nancy Meyers' movie distinguished itself from other pictures of the genre by showing the amorous adventures of people who have long since crossed the "shadow streak." And this is a not inconsiderable advantage, especially since such acting classes as Jack Nicholson and Diane Keaton, who was awarded a Golden Globe for her performance, were cast in leading roles.
Share "The 25 Best Romantic Comedies of All Time" with your friends.