"A Man and a Woman" – French Love Landscape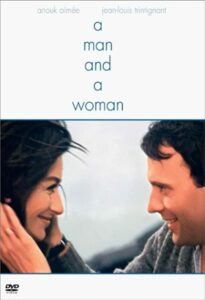 Title: "A Man and a Woman"
Release Date: 1966
Director: Claude Lelouch
Cast: Anouk Aimée, Jean-Louis Trintignant, Pierre Barouh, Valerie Lagrange
The movie "A Man and a Woman" by Claude Lelouch was a real cinema hit. In 1966 it won the Palme d'Or at Cannes, winning over, among others, Jerzy Kawalerowicz's "Pharaoh," and the success of the French work was subsequently sealed by two Oscars. Critics and audiences were captivated by the love story told with attention to visual excellence and formal innovation. In turn, the roles of attractive French stars Anouk Aimée and Jean-Louis Trintignant and Francis Lai's memorable music, the famous "Shaba daba da," provided additional pleasure. Years later, "A Man and a Woman" is unlikely to inspire such delight anymore. However, it remains a neatly done melodramatic tale that is certainly worth seeing, perhaps not so much for the depth of the characters' feelings, but for the unique French atmosphere.
"A Man and a Woman" – the love of two lonely people
"A Man and a Woman" tells the touching story of two people who live a lonely life after the death of their spouses. Anne is a young widow, working as a secretary of a film set. The woman visits her daughter, who is staying at a boarding school in Deauville, every week. When she misses her train back to Paris one Sunday, the father of a boy studying at the same school, Jean-Louis, offers her a lift. During the trip, the characters begin to confide in each other. It turns out that the man is a racing driver who also lost his wife. The woman broke down after his serious accident in a race and committed suicide.
Joint trips to Deauville bring the couple closer together. When one day Jean-Louis leaves for a rally in Monte Carlo, Anne sends him a telegram with a loving confession. The man rushes all night to meet his beloved, and, not finding her at home, goes to the boarding school. Happy about finding love, the heroes spend intoxicating moments at the hotel. Unexpectedly, nonetheless, Anne is haunted by memories of her late husband and decides to return to Paris by train alone. Jean-Louis, however, does not give up, arrives in the city before his lover and waits for her at the train station. When Anne gets off, they fall into each other's arms.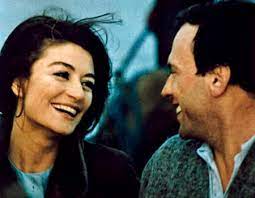 "A Man and a Woman" and Claude Lelouch's unforgettable style
"A Man and a Woman" is Claude Lelouch's most famous and best film. His later pictures no longer won such recognition, and the means of expression used here, which so delighted the critics, were then brought by the director to an unbearable mannerism. In 1986 Lelouch made "A Man and a Woman – 20 Years Later," which most clearly showed the weaknesses of his cinema. At the end of the 1960s, however, the Frenchman's film seemed to be a phenomenon that brilliantly combined the avant-garde methods of the New Wave with a cinematic language that was understandable and attractive to the viewer.
It was in "A Man and a Woman" that the method of constructing an out-of-focus foreground and filming characters somehow emerging from behind a frame obscured by other elements was used for the first time in European cinema. In addition, Lelouch combined color and black-and-white cinematography, achieving a visual means of composing mood. Many scenes and dialogues bear characteristics of improvisation associated with the New Wave style, but also with the prose of William Faulkner, reflecting the everydayness and fabric of ordinary life. In addition, Francis Lai's music plays a huge role in the film. The famous "Shaba daba da" not only builds the changing mood, but also rhythms and interprets the story. Thus, the moving story combined with these effects resulted in the Palme d'Or at Cannes and two Oscars: for Best Foreign Language Film and for the screenplay.
A man, a woman and… children
Among the undoubted strengths of "A Man and a Woman" is also the excellent acting. Anouk Aimée and Jean-Louisa Trintignant make a beautiful couple, and their acting is extremely subtle, which captures the tentatively emerging feeling between them. Desire is mixed here with memories of past happiness, and loneliness is intertwined with the desire for intimacy and the simultaneous fear of it. If one were to take a closer look, however, the story seems to have some shortcomings. First of all, it is reduced to the perspective of two people, which is already suggested by the title "A Man and a Woman", and yet the children of the protagonists are also involved. Jean-Louis's son and Anne's daughter are clearly in the background, perhaps also the personal lives of the protagonists, who do not actually raise their children, but only visit them on weekends, on a daily basis leading completely different lives. This is all the more strange given that the children have already survived the death of one of their parents, and their sense of security has certainly been severely strained.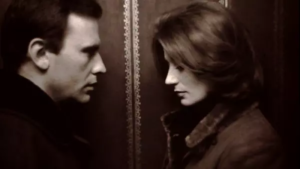 The children, with whom there are no problems, as they only appear as visual decoration, fit well into the concept of a film that is meant to move the viewer. Nevertheless, the depth of the story clearly loses out on this. "A Man and a Woman" becomes a beautiful, pleasant picture, which is very pleasant to watch, because the characters are beautiful, have unusual professions, have eternally smiling consolations, and on top of that they manage to put their lives back together and overcome all obstacles. However, one searches in vain here for the truth about the existence of ordinary people after a trauma. But that would probably be told in a completely different film. "A Man and a Woman" therefore remains an effective French love story.
Literature:
G. Stachówna, "100 melodramatów. Leksykon", Kraków 2000.
A. Garbicz, "Kino. Wehikuł magiczny – podróż trzecia. Przewodnik osiągnięć filmu fabularnego", Kraków 2000.