Brigitte Bardot & Roger Vadim – Love of The Twenties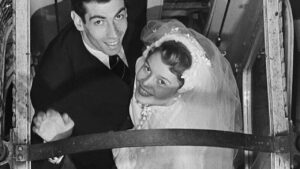 They bonded when they were not yet dreaming of great fame. He was an up-and-coming assistant to a great French director, and she was a 15-year-old schoolgirl who ended up on the cover of "Elle" by accident. They were united by great passion and deep affection. Roger Vadim awakened in Brigitte Bardot a sensual woman, and then discovered her unique charm to the world. Together they conquered cinematic heights, but when they reached them, they were already different people and could not be with each other.
Brigitte Bardot and Roger Vadim – how did they meet?
"How did they meet? By accident, like everyone else," is how Denis Diderot begins his famous Winnie the Fatalist. This is also how to begin the romantic love story of Brigitte Bardot and Roger Vadim. He was a descendant of a Russian aristocratic family named Plemiannikov, who had to leave the country during the October Revolution. Vadim's father held the position of consul in France, but after his early death the family found itself in a difficult financial situation. As a young boy, Roger fought on the front during World War II, and later became involved in film.
When he met Brigitte in 1949 he was 20 years old, imitating the work of a screenwriter and assistant to the then famous director Marc Allegret. In reality, however, he was a speedster without a permanent home or a penny to his name. Vadim belonged to the French bohemian existentialists. He frequented the famous art venues in Saint-Germain-des-Pres. He belonged to a circle that included such figures as Jean-Paul Sartre, Albert Camus, Salvador Dali and Edith Piaf. He led a typical bohemian lifestyle: one day he was dining sumptuously with the cream of Parisian society, the next he had nowhere to sleep and nothing to put in his mouth.
Brigitte Bardot was a veritable opposite of Roger. She came from a traditional, wealthy bourgeois family. As a 15-year-old, she politely attended school and took dance lessons from the famous ballet master of Tsar Nicholas II himself, Boris Kniaseff. In the future, she hoped to become a dancer. Her conservative parents took care of their daughter's careful education and manners and introduced her to various wealthy and influential bachelors, potential candidates for a son-in-law.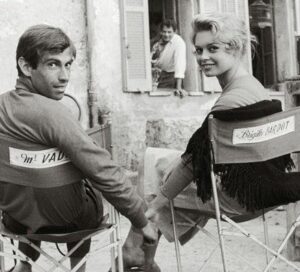 An acquaintance of Brigitte's mother, Helene Lazereff, was the editor-in-chief of "Elle" magazine, and one day offered the teenager a session for the newspaper's cover story on contemporary French teenagers. Bardot's father, Pilou, was a great opponent of this type of career, but he eventually agreed to this fad, and so Roger Vadim saw young Brigitte for the first time in a photo in a women's magazine.
The young Parisian's fresh beauty immediately caught his attention and he decided to convince his boss to invite the girl for a test shoot. Brigitte's mother was tempted by the prospect of meeting the famous artist, so one afternoon she showed up with her daughter for the arranged meeting. One look at the mysterious and handsome young man was enough for Brigitte to fall in love with him. At the time she was a young girl, overly controlled by her parents, who dreamed of great love.
Bardot hated her subjected to the rigors of an orderly life with emotionally cool and demanding parents. From early childhood, she was forcefully instilled with rules of impeccable behavior and forced to follow religious practices. Vadim, on the other hand, embodied unfettered freedom – from etiquette, the cult of money and strict moral rules. He was completely different from all the arranged young men, medical or law students, with whom she went on dates arranged by her parents. Brigitte met with the young screenwriter to practice her acting skills. Soon, too, Vadim began to frequent the home of Mr. and Mrs. Bardot, who received him kindly, but discreetly had the servants count silver, suspecting him of possible theft.
Brigitte recalled one such occasion: "I remember the contrast between this bourgeois, luxurious dinner, with a butler, candles and silverware, and the presence of Vadim in a worn turtleneck and long hair. He looked like a gypsy and I was crazy about it."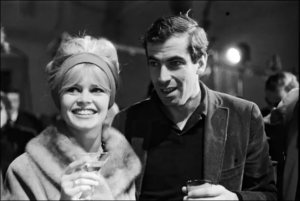 Brigitte Bardot and Roger Vadim – how did they get married?
Although Vadim initially had no intention of getting involved in a relationship with an inexperienced schoolgirl, passion very quickly broke out between them. One morning, instead of going to school, Brigitte changed her route and went to the premises where Roger was just staying. That day they became lovers. Their erotic attraction grew stronger, and stealthy trysts added spice to the relationship. Brigitte, constantly watched over by her parents, had to come up with a thousand excuses to spend a few moments with Vadim.
One day, when they made love in the absence of Mr. and Mrs. Bardot, it turned out that the parents had returned early, and the undressed couple had to hide behind a curtain in the living room and dress in a hurry. Another time, when Brigitte and her family went on a winter vacation, Vadim rented a room in the same hotel to visit his beloved at night. Briggite's father, however, heard disturbing footsteps on the creaking floor and unexpectedly rushed into his daughter's room. The completely naked lovers then jumped out of the window and hid in the snow.
Eventually, the increasingly suspicious Mr. and Mrs. Bardot forbade Brigitte to meet the suspicious man. They were about to send her to a girls' boarding school in England. That's when the distraught girl bargained for her life. When the family went out to the theater, Brigitte turned off the gas and put her head in the oven. Fortunately, the performance was canceled and the parents found the unconscious teenager in the kitchen. After the incident, the teenager's parents decided that they would let her marry Vadim in two years when she turned 18, obviously hoping that by then the stupid ideas would have blown out of her head.
Brigitte and Vadim, however, were not thinking of splitting up. Their love blossomed in the best way, and the relationship became more and more serious. Roger doesn't mention it in his memoirs, but Bardot wrote in her diary that during their engagement she became pregnant, which she secretly removed in a Swiss clinic. Her parents, unaware at the time, were certain that their daughter had undergone jaundice, which their friendly doctor had diagnosed. As Brigitte ironically commented, she has since stopped believing in medicine.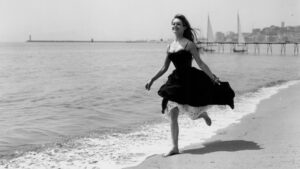 During this time, Bardot began to play her first small roles in films, and although they were insignificant, she became increasingly recognizable and often appeared on the covers of color magazines. Vadim, on the other hand, in order to marry his beloved, had to meet two of her family's conditions: find a steady job and learn the teachings of the Catholic Church, which in practice meant attending long catechism classes. However, in love to the point of madness, he did everything to be with Brigitte. With the help of Bardot's father, he became a journalist for the prestigious Paris-Match newspaper and learned the catechism by heart. Finally, in December 1952, the couple stood on the wedding cake – first a civil wedding and then a church wedding.
Brigitte's conservative parents were pleased – their daughter had entered into a traditional Catholic marriage. The bride's father guarded his daughter's virtue until the last day and, even after the civil wedding, did not allow the couple to spend the night together. Interestingly, Mr. and Mrs. Bardot at the same time did not mind at all that her daughter's wedding dress was sewn by her mother's friend in an establishment located in a former brothel. Brigitte took a humorous approach: "It was ironic, or simply ironic, that I went to try on my virgin gown in a salon that still smelled of debauchery."
Brigitte Bardot and Roger Vadim – how did they love each other?
After their marriage, Mr. and Mrs. Plemiannikov located themselves in a small apartment on the third floor without an elevator in rue Chardon-Lagache, which Brigitte's mother lent them, hoping to soon get a house of their own. Interestingly, Bardot began accepting more movie roles just to furnish her first married nest. For purely financial reasons, she also took a role in the theater in Invitation to the Castle.
The young couple enjoyed their happiness and made the most of life. In turn, outbursts of passion were interspersed with emotional quarrels. The most memorable one Vadim recalls in his book. One day, during an argument, Brigitte abruptly interrupted the argument and asked her husband to take out the garbage. Vadim, suspecting nothing, took the bucket and left the apartment. Then Brigitte slammed the door behind him and locked it. Vadim, not wanting to spend the night on the cage in just his pajamas, kicked the door in.
Brigitte Bardot also recalls a funny situation. When the young married woman got tired of household chores, she moved out to a hotel room. At the time, many budding actors and starlets were located on the same floor, and they often romanced each other carelessly. It happened that someone caught them, then they would leave their premises in a panic and throw their underwear into Brigitte's room, while she carelessly stored it all. One day her husband opened the closet and was surprised to see half a dozen men's boxers. This threatened divorce.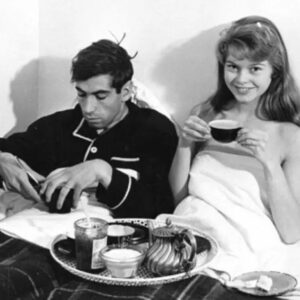 Vadim had to travel frequently in Europe for his work. So he bought Brigitte a cute cocker-spaniel to reduce her loneliness. They named him Clown and, as Roger put it, the dog became their "first and only child." Bardot also traveled for her new roles. When she was invited to Rome, the couple stayed at the picturesque "Hotel de la Ville" above the famous Spanish steps. At the time, they indulged in a frenzied "dolce vita" with parties until dawn, nightly baths in the Adriatic Sea, delicious food, wine and sensual pleasure.
Brigitte once again became pregnant, but motherhood terrified her greatly. She feared it would take away her independence, youth and destroy her fledgling career. So she once again underwent an abortion, but this time the dangerous, surreptitious procedure cost her a lot of health. She suffered recurrent hemorrhages for some time and had to undergo surgery.
How did Brigitte Bardot and Roger Vadim part ways?
Brigitte Bardot and Roger Vadim overcame many obstacles to be together. They supported each other in difficult times and loved each other, but over time their relationship entered a crisis phase. It wasn't about disagreements and arguments. The problem was sexual in nature – the passion between them was slowly dying out. In her memoirs, Bardot notes that over time they stopped being attracted to each other, and their relationship resembled the intimacy of a brother and sister. Vadim, on the other hand, claims that it was he who ceased to burn with desire for Brigitte.
The fact that this is about one of the greatest sex icons of all time makes Roger's words shocking: "Sleeping with Brigitte didn't particularly excite me anymore. Suddenly I understood 'what it means to fulfill marital obligations.' (…) the overexcitement on my part was difficult to explain given the fact that Brigitte had reached the full bloom of her beauty at the age of twenty-one. Any man would sell his soul to the devil to be able to take my place in her bed."
It is, of course, difficult to accuse Vadim of insincerity, but his memoirs in many places provide excellent material for a seasoned psychoanalyst to analyze. For it is indeed difficult to believe in the excesses of twenty-year-old Brigitte Bardot! One may suspect that it was rather difficult to be married to such a popular and widely desired woman even then. And it was difficult to bear the pressure to please her, which could have a paralyzing effect on a man.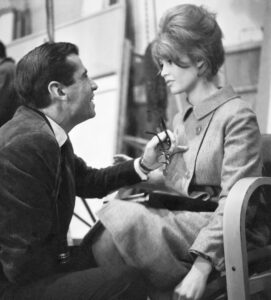 Vadim admits that he had a problem with the fact that Brigitte's career, for unknown reasons (she had not yet starred in any high-profile films at the time), was accelerating with incredible speed, while his was stagnating. When Bardot showed up in Cannes in 1953 to accompany Vadim (absolutely not as a star), journalists went crazy about her. It was then that Roger first became aware of the emerging "Bardot phenomenon" – a girl who strolled uninhibitedly along the beach in a skimpy bikini, barefoot and with flowing hair. Soldiers from an American aircraft carrier, when they saw her, gave her an ovation worthy of at least Marilyn Monroe, and Onasis sent special invitations to his party.
Vadim was thus increasingly cool to Brigitte's thirst for interest and affection, and she began to look around for other men. She got into a brief affair with an Italian guitarist, this, however, was nothing serious. The real threat to Mr. and Mrs. Plemiannikov's marriage came later, on the set of the film that turned Bardot into Europe's biggest star and Vadim into a master of cinema. "And God Created Woman" is a film where Brigitte showed off her divine body and created a new type of heroine – a prudish girl freed from the power of social conventions, with the courage to reach for her own happiness, including sensual pleasure.
While working on this film in St. Tropez, the actress met Jean-Louis Trintignant, with whom she soon fell in love. Vadim quickly realized that the matter was serious and… after a long hesitation, he allowed Bardot, in front of the entire film crew, to officially live with her lover. Even more – every day through the eye of the camera he watched the love scenes they played out.
He later claimed that he did not feel a shadow of jealousy or regret at the time. He simply resigned himself to the end of love. However, it can be assumed that he was simply in a tremendous state of shock, which prevented him from admitting to himself what was happening. His behavior can even be read in terms of classic trauma. After all, when the shooting and editing was over, Vadim went one evening to the apartment in Paris where he and Brigitte once lived together. He then saw his, still officially his wife, come out laughing for a walk with Clown, holding Jean-Louis' hand.
Then long-hidden feelings burst inside the man. He returned home and wrote two letters: one to Brigitte and the other to his friend Raoul Levi. He dropped them in Raoul's mailbox and drove ahead. It is not known what exactly he included in his messages, but most likely information about his suicide plan. After a frantic rally in the rain and an overnight stay in an alfalfa field, however, he changed his mind and went to visit his mother in Toulon. Years later, he said that after this experience he became "immune to the virus" of despair: "I never again allowed this unknown demon to take possession of my body and my soul again."
The couple officially divorced in 1957. They parted in friendship; moreover, they later remained on good terms, both professionally and privately. They confided in each other on many occasions and kept many good feelings for each other. It was undoubtedly Vadim who shaped Brigitte Bardot's image. For love of him, she gave up dancing and took up acting, although, as Roger stated, "she never really loved cinema."
Brigitte believed that the fate of their relationship could have turned out differently if Vadim had been jealous. After all, her interest in Jean-Louis was, in the first stage, simply a desire to provoke her husband to show her affection and desire. He, in turn, was unwilling, or perhaps more so, unable to do anything to keep her. Brigitte could not accept this – as Vadim claimed: "She always wanted everything and even more, immediately. Passion was her drug. And as is always the case with a drug, she remained a slave to it throughout her life."
Literature:
R. Vadim, "Moje trzy żony. Bardot, Deneuve, Fonda, przeł. E. Ptaszyńska-Sadowska", Warszawa 1990.
B. Barot, "B. B. Pamiętniki", przeł. Aleksandra Mańka-Chmura, Katowice 1998.