"Elvis" – Born to Play Rock'n'roll [review]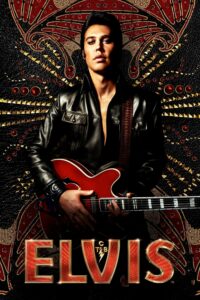 Title: "Elvis"
Release Date: 2022
Director: Baz Luhrmann
Cast: Austin Butler, Tom Hanks, Olivia DeJonge, Helen Thomson, Richard Roxburgh, Kevin Harrison Jr., David Wenham
"Elvis" by Baz Luhrmann is first and foremost a spectacle teeming with color and music, an amazing show that stole my heart from the first moments. Instead of psychoanalysis and a detailed account of biographical facts, we have the anatomy of the stage phenomenon of the famous artist. Luhrmann does not try to answer the question of who Elvis Presley was privately, he is more interested instead in who he was to his audience. Thus, the star of the king of rock'n'roll, who was born to change the history of music and culture, flashes before our eyes.
"Elvis" – the story of the Presley phenomenon
"Elvis", directed by Baz Luhrmann, is undoubtedly a novel look at the life of one of the greatest artists of all time. For the film is not a standard biographical tale, but a story of the star, sparkling from the multitude of cinematic conventions, in which the role of narrator is played by his long-time manager, Colonel Tom Parker (To Hanks). As a result, it is not so much Elvis Presley's (Austin Butler) personal life that is in the foreground, but his great career and incredible cultural phenomenon.
Therfore, we meet Elvis himself as a handsome truck driver who has just recorded a chart-topping hit on Sun Records – "That's All Right Mama" Tom Parker, who is leading singer Hank Snow's tour at the time, hearing Presley's song on the radio, decides to take the performer with him. The experienced talent hunter very quickly realizes that his new protégé has an unprecedented talent: at concerts he has an unusually strong effect on his audience, and even puts its female part into a kind of trance. So Parker puts everything on one card: from now on he will only deal with Presley. Foreseeing the artist's imminent career, the manager signs an outrageous contract with his parents, which gives him as much as half of the profits from the income and the copyrights to his work …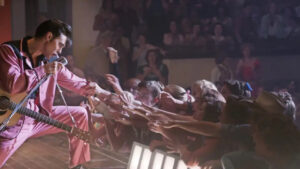 Soon Presley appears on the TV show "The Ed Sullivan Show," which becomes the beginning of his worldwide popularity. Elvis begins to appear in films, and his stage performances attract a growing fan base. However, the singer's innovative style, derived from African-American rhythms, bothers politicians and religious organizations, who accuse him of insulting morality. The remedy for the scandals is expected to be the singer's secondment to military service in Europe for two years. Meanwhile, Parker is already planning the next stages of Elvis' career….
The movie "Elvis" – a great show at its best
"Elvis" is a film in which you certainly know the hand of Baz Luhrmann, director of the famous musical "Moulin Rouge!". Who else could so brilliantly show the legendary performances of one of the greatest artists of all time. Before our eyes a great show is played out, which is almost dripping with music, colors and precisely planned drama that arouses extremely strong emotions in the audience. The successive stage creations of Elvis – his singing, dancing, but also unforgettable fashion styles build the atmosphere of the sixth and seventh decades of the 20th century, when Elvis began to function as a kind of brand.
The viewer, as if on a speeding merry-go-round of a sparkling neon amusement park, has the opportunity to admire more and more new attractions that make him delighted. The show is the focus of the various forms of performance evoked in "Elvis": circus, concert, fashion show, advertising, television show and finally cinema – the art of attraction, capturing the attention of the viewer and winning his heart.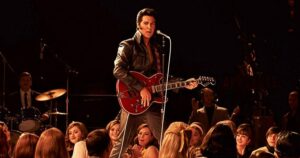 The visual side of the film "Elvis" is a veritable eruption of bright colors bringing out the color of the era in which the king of rock'n'roll lived – its fancy fashion, expressive hairstyles, jewelry and eccentric cars. The colorful hyperbole also evokes associations with certain plot conventions. And these run the gamut here: from initiation cinema to comedy, musical, thriller and melodrama. Above all, however, there is the aesthetics of a fairy tale – a great story about a hero whose life becomes a series of extraordinary adventures, on top of which there is a moral.
"Elvis" as a phenomenon of stage, music and culture
Therefore, the prodigy of Elvis Presley is born here and functions as a show, during which energy suppressed by social conventions is released from people. It is an eruption of joy, life and sex. It's something that makes concert attendees scream, take off their closets, and desire to embrace and hug their idol. In his film, although Luhrmann shows the most important events of the star's life, he does not delve into their course or significance (the opposite of what Andrew Dominik does in his story about Marilyn Monroe, "Blonde"). He is primarily interested in Presley's creative biography, with the unfathomable gift of making audiences happy at its center.
What's more, the director clearly juxtaposes two perspectives on his hero in the film. One is represented by Parker's voice, who sees Elvis only as his own marketing product. In the Colonel's mind, Presley is a gifted showman, properly directed, packaged and marketed – so that he tingles millions of fans. However, there is also a second perspective in "Elvis", seemingly invisible, which manifests itself in all the moments when Presley embezzles from his manager and follows his heart, without regard for consistency. It is then that the artist captivates crowds, breaks patterns and tramples racial prejudices. It is then that we see the man who, as a young boy during a service in an African-American church, experienced an illumination and received a supernatural gift.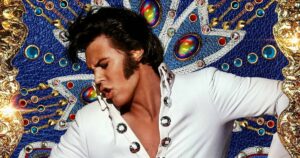 Who, then, was Elvis Presley? Was he a cleverly conceived marketing product selling household items, fashion and music records, or a born master of rock'n'roll putting his audience into an almost metaphysical trance? With this second face of the star before my eyes, I thought of the cinematic Jim Morrison from Olivier Stone's famous masterpiece "The Doors." While Val Kilmer in his stage performances became an Indian shaman, Austin Butler as Presley during the performance seems to be an African-American bluesman.
"Elvis" – a story of eternal love
Before I saw "Elvis" I was sure that the love storyline would occupy the most space in the film, since a biography is best told through the prism of a "great love story." And indeed it is a love story – but not for a woman, but for the audience. The peculiarity of Elvis Presley, as it were, is born only in contact with the audience. For an artist never creates for himself, he always creates for someone. And it is the audience that is Elvis' tenderest lover, to whom he longs and who, despite his successive downfalls, still faithfully waits for him and invariably loves him. It is no coincidence that Presley's voice from one of his last concerts resounds in the finale. The song "Unchained Melody" in his mouth is an extremely moving love confession addressed to his beloved fans, but also to the film's contemporary viewers. It is to us that he addresses us directly and asks if our hearts still belong to him – the King of rock'n'roll – despite the passage of time?
"Woah, my love, my darling.
I've hungered for your touch
A long, lonely time
And time goes by so slowly
And time can do so much
Are you still mine?
I need your love
I need your love
God speed your love to me"