Ingrid Bergman & Roberto Rossellini – Scandalists of the Century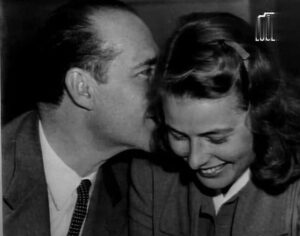 Their relationship was like the meeting of two different worlds: the cool North and the hot South. It was also a confrontation of opposite visions of cinematography: commercial Hollywood and artistic European cinema. To this day, biographers argue why America's biggest star Ingrid Bergman threw everything she had for Roberto Rossellini: family life and a great career. The actress' decision made her the biggest scandal in Hollywood history, which even the US Senate condemned.
The Luna Convento Hotel rises on a steep hill in Italy's Amalfia, right by the sea. Decorated in a former Capuchin monastery, it is an extremely romantic setting where it is not difficult to forget the gray reality. From the windows there is a fabulous view of the azure bay. On the blue sea surface float white dots of sailboats. Powerboats leave streaks of splashing foam behind them. Ingrid Bergman finishes writing the letter, then looks out at the sea. She feels she cannot do otherwise. It's a letter to her husband and daughter, who are waiting for her in America. The words written a moment ago in black ink on white paper resound in her head:
"Petter, child, what I'm going to write in this letter will be difficult for you, and it's not easy for me to write it either. But I think this is the only way. I would so much like to explain everything to you from the beginning, however, you know enough. I would like to ask you to forgive me, but it sounds ridiculous. It's all my fault and how could you forgive me for wanting to stay with Robert? I had no intention of leaving you and staying in Italy forever. After all, we had so many plans." Ingrid's breathing speeds up and thoughts begin to churn in her head. The last sentences of the letter, the last words to Petter, stand before her eyes: "Dearest, I never thought that such a moment would come, after all we've been through together, and I don't know what to do. Poor little dad, but also poor little mom. Mom."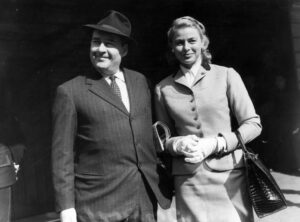 Ingrid Bergman and Roberto Rossellini – two hearts, two worlds
Ingrid Bergman and Roberto Rossellini differed in almost everything. She was Swedish, raised in a strict Protestant culture. She was orphaned by her parents at an early age, living with her uncle and perpetually feeling lonely. Ingrid's path to an acting career was not strewn with roses – coming from a poor family, the girl had to devote herself almost entirely to her studies and constant rehearsals in order to finish acting school and gain roles in theater and film. At the age of 22, she married a stable dentist, Petter Lindstrom, who was older than her, and a year later gave birth to her daughter Pia.
She came to Hollywood in 1939 at the invitation of American film producer David Selznick, who wanted to make a new version of her Swedish film "Intermezzo". She was quickly made into a star who was the complete opposite of sexy Marlene Dietrich-style vamps. Ingrid Bergman, with her natural beauty, wide eyebrows and without a shadow of makeup, became the epitome of gentle femininity finding fulfillment in two roles: wife and mother. It was this image of her that Americans came to love, and as it turned out later, they did not let it be taken away easily.
Rossellini, on the other hand, was a typical lightweight, born under a lucky star. He came from a very wealthy Italian family, where he was pampered to the extreme. Until the age of 25, he did not work – but spent his time traveling extensively and fulfilling his whims. When Rossellini's father died, it became apparent that his son had squandered his wealth and had to go about earning a living. That's when Roberto took up filmmaking. After a brief episode of fascist propaganda, he began shooting innovative works that created a new direction in Italian cinema – neorealism. In his private life, Rossellini was a womanizer and by the time he met Ingrid, he had already married twice. The second time with actress Anna Magnani.
Ingrid Bergman and Roberto Rossellini – love at first sight
Ingrid Bergman claimed years later that she first heard about Roberto Rossellini on the occasion of a screening in America of his famous film "Rome, Open City". Admittedly, mischievous biographers have debunked this confession of the star, stressing that at the time she said, this film was not playing in the US. Either way, the Italian's work made an electrifying impression on Bergman. For the second time, the star experienced a similar feeling at the screening of another Rossellini film, "Paisa", and decided that she had to meet the author of these masterpieces.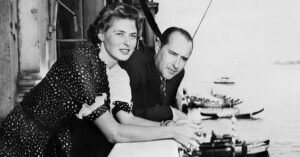 Ingrid, who had great roles under her belt, including the iconic one in "Casablanca", was probably tired of commercial Hollywood cinema. She dreamed of great artistic challenges, so she wrote Rossellini a letter offering to work with her. However, it can be assumed that Bergman's interest in European cinema was behind her then declining career. After all, her last creations, especially the dream role of Joan of Arc, were not well received and suffered a financial flop.
When Rossellini received the letter from the American star, he was by no means thrilled. He even asked dismissively: "Who is this Bergman?" for he was not at all familiar with the American cinema he despised. However, when he estimated the value of a possible collaboration, with his typical charm he wrote Ingrid a very charming telegram completely covering up his initial hesitation:
"I have just read your letter with great joy. It came on my birthday and was the most wonderful of all gifts. I have long dreamed of making a film with you, and from today I will do everything to make it happen."
So a date and place for the meeting were set. Ingrid Bergman flew to the "George V" hotel in Paris. She went there with her husband, but her heart almost immediately beat harder after meeting Rossellini. The Italian director captivated the actress with a vision of her creative participation in the film – something she strongly desired. Bergman felt like an influencer of real art and was happy to break her Hollywood image and show her full acting capabilities. She was to star in the film "Stromboli", and create the image of a woman struggling against the uncontrollable elements of the Sicilian volcano.
Rossellini soon paid the Swedish star a return visit in Beverly Hills and did everything to win her over. In the absence of her husband Bergman, the couple spent a lot of time together and had the opportunity to get to know each other better. Rossellini delighted Ingrid with his distinctiveness. He was not a staid, frugal-to-the-bone man like her husband. Bergman later confessed in her memoirs (if they can be believed) that her marriage to Petter was like a trap. It functioned more like a thriving business than a relationship of close people. Petter constantly watched over Ingrid's every step, including obsessively watching her weight. Meanwhile, the Italian gazed at the actress with dreamy eyes and seemed to her like a Prince Charming who would relieve her of increasing personal and professional pressure. Bergman later said:
"I think I fell in love with Robert already when I saw Rome, the city open, I couldn't stop thinking about him. Probably also because I believed he could help me change my private life and my situation in Hollywood."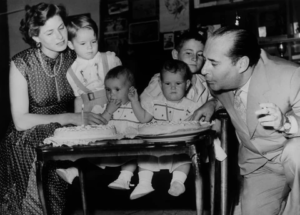 Ingrid Bergman and Roberto Rossellini – Italian abducts American star
In March 1949, Ingrid Bergman flew to Italy to star in the long-planned film "Stromboli", which she convinced American producers to finance. She left simply, with no big goodbyes or luggage. However, the absence, which was supposed to last only a few weeks, dragged on for as long as seven years. Rome welcomed Ingrid like a queen – crowds cheered in the streets, hotel rooms were strewn with roses, and Roberto Rossellini did not leave his beloved for an inch. The two took a car trip all over Italy, all the way to Sicily, where Stromboli was to be built. The warm, beautiful country delighted and moved Bergman, and the expressions of love from the people and the director made her want to stay here forever.
So after spending weeks in Rossellini's arms, Ingrid sent a long letter to her husband announcing that she would not be returning to him or to America, and that their marriage was over. Petter initially couldn't believe what had happened, and neither could the entire U.S., which, when the truth came out, nearly went mad with anger and indignation at Hollywood's first lady. American producers, worried about the financial fate of the film, tried at all costs to keep everything under wraps and dissuade Ingrid from her "shameful" intention. A real press assault on the house where the couple lived during the shooting of the film began. American Life magazine published a telling photo of Ingrid and Rossellini on its cover with the caption: "Ingrid holds hands with her director, while her husband is already flying to Italy."
While still filming "Stromboli", Bergman became pregnant, which brought the tense situation to a head. America felt cheated and betrayed by "Saint Joan of Arc." Even in the US Congress, Senator Edwin C. Johnson made an official speech condemning the actress' conduct. It was believed that Ingrid had failed in her role as a wife and mother and should suffer some kind of punishment for this – if only a social boycott. It must be admitted that Bergman must have been extremely mentally strong to withstand this massive attack from all sides. As an older woman she wrote about that period: "The whole world thought I was experiencing wonderful days on Stromboli with my great love, but in reality I was crying because my guilt was crushing me to the ground. I felt guilty to all those people who wrote that I had ruined their movies. I ruined myself, my career. […] Everyone wanted to lecture me, and I felt trapped and saw no way out."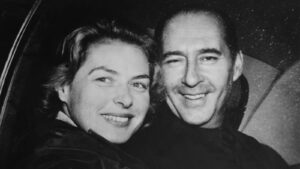 Mr. and Mrs. Rossellini's happiness
Robertino, whom the actress soon gave birth to, due to the fact that his parents were not married, was recorded in the office as "son of Roberto Rossellini," while his mother was described as "unknown." Getting married in this case was hampered by Italian law, which at the time did not recognize divorce. Eventually, however, the matter was settled in the form of a Mexican divorce – Rossellini annulled his marriage to Anna Magnani, and Bergman to Petter. Soon the couple married, and Ingrid became pregnant for the second time. This time she gave birth to two daughters – Isabella and Isotta.
Rossellini purchased a magnificent estate on the Mediterranean Sea in Santa Marinella for the family. The paradisiacal landscape with palm trees, a large garden and animals was initially an idyllic setting for domestic happiness. As for Ingrid's daughter from her first marriage – Pia – she remained in the US with her father. Although the court granted the actress the right to see the child, her husband did not allow Pia to go to Italy, fearing abduction, and Bergman did not fly to the States either. She was forbidden to do so by Rossellini, who was sick with jealousy. It is interesting that the relationship, which was supposed to give Ingrid the freedom she craved, transformed her into a docile Italian wife, obeying her husband's will without objection, even in such fundamental matters.
Taking care of the house and children took Ingrid completely away from filming for a while. Besides, this was Robert's decision – he wanted a traditional big family, in which roles are clearly separated. The Rossellini house was constantly visited by celebrities from all over the world – film people and artists. At first, everything seemed to work out like a fairy tale. Bergman was showered with gifts and pampered. Over time, however, she realized that she was not at all her husband's partner, including in the most intimate sphere – Roberto often visited brothels.
Dark clouds over Ingrid Bergman and Roberto Rossellini
Happiness, as is usually the case, splashed completely with money. When Roberto's subsequent films met with rejection from audiences and critics, the Rossellini house began to be visited by a bailiff. That's when Ingrid stood her ground and got back into the game. She began collaborating with her husband. Together they made the films "Europa 51'", "Journey to Italy" and "Fear". These works are considered great today, for it must be admitted that Rossellini was ahead of his time, but at the time they failed. The press was downright merciless, in the Italian prestigious "Cinema" it was written: "We have written Rossellini off. What is frightening, however, is that he has also managed to ruin this woman who once could have become a worthy successor to Greta Garbo."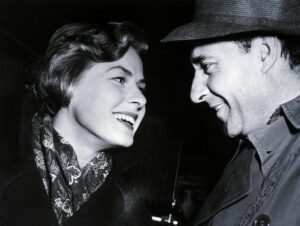 After their last fiasco together in 1955, Bergman announced to the media that she was ending her professional partnership with Rossellini, which was met with a great reprimand from him. That same year, the actress starred in Jean Ronoir's French comedy "Elen and Her Men". She also starred in the play "Tea and Symphaty", which Roberto categorically forbade her to do. The success of these performances again opened the way for Berman to Hollywood, from where an offer for the lead role in Anatole Litvak's "Anastasia" soon came. Roberto, meanwhile, left for India to shoot a film about the country.
Soon the press caught Rossellini with a beautiful young Indian woman, Sonali Das Gupta. At first Roberto tried to cover up the affair, but Ingrid immediately guessed the whole truth. The Rossellini marriage came to an end. Roberto brought a young partner to Italy, about to give birth to his child, and a divorce was announced in November 1957. Custody of the children was initially awarded to Ingrid, but Roberto could not accept this, and when Bergman once again married Lars Schmidt, he almost went mad. Under no circumstances could he bear the thought that some cold-hearted Swede would raise his children. Eventually Bergman relented – the children went to live in Italy – but surprisingly not with Roberto. He with his Indian wife and child lived by the sea, the children from his relationship with Ingrid in an apartment in Rome.
After a love "episode" with Rossellini, Ingrid Bergman returned to a great career. She received her next Oscar for the role of Anastasia, and more success followed. Her relationship with Schmidt ended sadly – Lars found a young lover, who later gave birth to his child. Rossellini, on the other hand, after abandoning Somali, became involved with Assia Noris. It is significant that years later, almost just before Roberto's death, there was a kind of reconciliation between him and Ingrid. Bergman threw the director a big party to celebrate his 70th birthday, to which she invited his entire large Italian family. Rossellini died in 1977 of a heart attack, Ingrid in 1982 of breast cancer. About their relationship, which became the biggest scandal in Hollywood history, Federico Fellini said:
"From the very beginning Ingrid's relationship with Rossellini seemed a little strange, it was more or less the kind of relationship that bound Pinocchio to a beautiful fairy with blue hair. Thanks to Ingrid, Rossellini was able to turn into a good boy, although it may have been more the blue-haired fairy who risked becoming a female Pinocchio. But before Pinocchio had time to become a good boy, the fairy was gone. The miracle did not come true."
Literature:
R. Mohrmann, "Ingrid Bergman and Roberto Rossellini", polish transl. E. Kalinowska-Styczeń.