"Marriage Story" – How Divorce Happens in Hollywood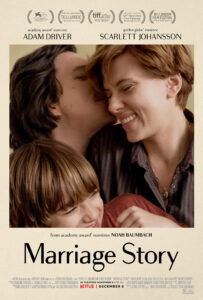 Title: "Marriage Story"
Release Date: 2019
Director: Noah Baumbach
Cast: Scarlett Johansson, Adam Driver, Laura Dern, Alan Alda, Ray Liotta, Julie Hagerty, Azhy Robertson
It's a movie that shows the breakup of a family, so the subject matter alone sets the emotion level very high. The problem is that these emotions in "Marriage Story" are not shared by the characters at all; instead, they are artificially imposed on the viewer by the compositional and narrative framework. This film is simply meant to move us. But it comes off as shallow and untrue, like the title couple who don't really know why they are getting divorced.
"Marriage Story" – a recipe for success
"Marriage Story" is a film that simply had to succeed: a good director, a great cast, and subject matter that touches audiences in every latitude around the world. Nicole and Charlie are a very loving couple who raise their ten-year-old son Henry together. He is a promising theater director, she is an actress and his biggest muse.
What unites them, however, also divides them. Charlie loves New York and Broadway, while Nicole is drawn to Hollywood. Out of love, the woman gives up her professional plans and chooses to live with her husband in New York. However, when after many years a chance for a significant role in a TV series appears, she takes her son and moves to California. Different visions of career development coincide with the breakup of their relationship. A child, however, cannot be divided up like furniture or money in an account; a choice has to be made as to who will live with whom and where – and the spouses begin a battle for their son.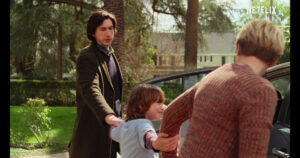 The plot outlined in this way promises to be a first-rate drama. In the history of cinema there have already been several moving stories about family crisis, such as the famous "Kramer vs. Kramer", but also "Revolutionary Road" (2008) or "Blue Valentine". Nevertheless, there is one essential ingredient for a successful drama: the emotions must be real and the characters believable – without these elements a film with such a serious subject matter slips into a cliché that can be summed up in one sentence: "Every divorce is sad."
"Marriage Story" – romantic Adam Driver versus feminine Scarlett Johansson
Almost the only emotion that the screening of "Marriage Story" evoked in me was a growing irritation. The list of sins of this movie is really long. The first issue is the very uneven juxtaposition of the characters. Ostensibly, the film is supposed to present the as old as the world truth that the fault in a divorce "always lies on both sides". However, it is hard to resist the impression that Nicole is a little more guilty. Not just because she decides to leave, but because she breaks a mutual agreement and initiates a tough court battle for no reason at all. Furtermore, Nicole is portrayed far less "attractive" to the viewer than Charlie. With a man's haircut, no make-up, no jewelry, always wearing a shirt and uninteresting pants, she does not resemble Scarlett Johansson's screen image. Her complete opposite is handsome and well-groomed Charlie, who not only charms with his romantic look, but also cooks very well and the scenes presenting his desperate fight for his son are almost melodramatic. The viewer's sympathies are steered rather one-sidedly here.
Of course, the reversal of stereotypical gender roles in "Marriage Story" reflects cultural changes. This can be seen on several levels: a woman does not have to look stunning to accept herself, a career is important to her besides being a mother, and she has the right to commit minor sins such as having a drink in the evening or a joint at a party. Some gender inspirations can be discerned here, but they are bracketed by a strong monologue by Nicole's lawyer Nora, who makes her client aware that mothers are always subject to a much harsher social evaluation than fathers, so in court Nicole cannot admit to her weaknesses. Nonetheless, despite all these elements, the protagonist's motivation to end the marriage seems fuzzy. Nicole feels pushed into the background and feels that her career is stagnant and she cannot progress. However, after the scene in which she reveals all these reasons to the lawyer, one would irresistibly want to ask: "And that's it?".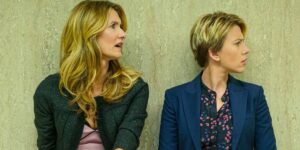 "Marriage Story" – gentle Nicola versus predatory Nora
Another deceitful element of the "Marriage Story" is the vision of the divorce process. Both parties want the whole process to be quick and agreeable. But that's only the case until the lawyers get involved. Although we have to admit that Laura Dern's performance as a cunning lawyer is phenomenal (in my opinion, it is the film's greatest asset), it is rather questionable to put the whole responsibility for the conflict between the spouses on greedy lawyers who ruthlessly control the emotions of both parties and escalate the tension to unbelievable proportions.
What's more, the juxtaposition of Nora and Nicole comes off as very interesting, but it also once again betrays the negative connotations of femininity in the film. Nora, in contrast to Nicole, exudes sexual attributes: her slim figure emphasized by slim clothes, long beautiful hair, makeup, red stilettos and bright nails are her most important assets. They play a crucial role here – they are an expression of aggressive and power-hungry femininity. It is also femininity that is a kind of theater played out before an audience in order to achieve certain goals. Anyway, the motif of theater plays an important, ambiguous role in the film.
"Marriage Story" – the child as a theatrical puppet
Henry becomes a completely helpless puppet in the theatrical argument between his parents. The film, however, very poorly signals any feelings of a child torn between his mother and father. Henry has no fears, reflections or questions – he accepts reality as it is. He adapts well to his new environment, and there is virtually no indication that his entire world is about to fall apart. It is hard to imagine a more unbelievable picture of family drama.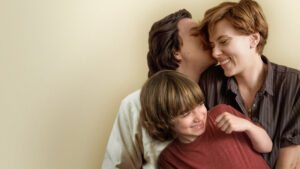 Theatricality is also a peculiar feature of the plot of "Marriage Story" and this rather speaks against it. Watching this film, I simply felt tired of overloaded dialogues and long takes. The picture overwhelms with typically theatrical means of expression. One can suppose that this is a deliberate procedure: the viewer is supposed to feel weariness of the main characters. Probably the model viewer should also experience the rage of the divorcing spouses, when they finally quarrel. This, nonetheless, seems to have succeeded the least.
"Marriage Story" – ingenious flashes in a bland whole
Despite the negative feelings that "Marriage Story" evokes in me, I feel obliged to mention the positive aspects of the picture. The film is certainly a well-thought-out whole, which is best expressed by the compositional buckle linking the beginning and the end. There are also some ingenious solutions, especially when it comes to meaningful symbolism. The scene when Nicole hands the sleeping baby to her husband and then they close the entrance gate together, which finally separates them, is worth mentioning. The most impressive moment is the one in which Charlie wounds himself with a knife and then faints from blood loss. This symbolic bleeding of the father in the fight for his child has a very strong meaning and is reflected in the further course of the plot.
Nevertheless, I perceive "Marriage Story" as a film which, in spite of its very ambitious concept and all the trumps to become a masterpiece, ultimately fails. Difficult, extreme experiences that accompany the authentic ruin of a marriage have been weakened with a tender message about eternal love and covered with the icing of understanding for human changeability of feelings. That is why the tears on screen seem artificial, and the bleeding wound is too shallow to touch the living.