"Mata Hari" – Spy with Garbo's Face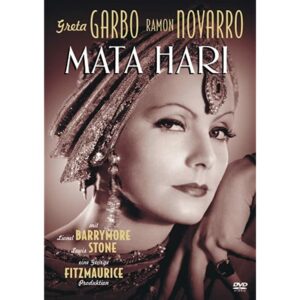 Title: "Mata Hari"
Release Date: 1931
Director: George Fitzmaurice
Cast: Greta Garbo, Ramon Novarro, Lionel Barrymore, Lewis Stone, C. Henry Gordon, Karen Morley
"Mata Hari", based on the true story of the most famous female spy in history, has gone down in cinema history mainly thanks to the role of Greta Garbo. The beautiful and outstanding actress, as usual, focuses all the attention of the viewer and covers up any shortcomings of the script. Garbo is the quintessence of mystery and the almost impossible combination of cool calculating with the capacity for supreme love sacrifice.
"Mata Hari" – a love story with espionage in the background
George Fitzmaurice's 1931 film tells the story of the famous Mata Hari – a Dutch dancer, whose real name was Margaretha Geertruida Zelle and at the turn of the first and second decades of the 20th century performed on European stages under the aforementioned pseudonym, meaning in Malay as much as "eye of dawn." The woman was also active as a spy – during World War I she was a double agent – French and German – for which she was arrested by the French in 1917 and sentenced to death by firing squad. The figure of the famous dancer and courtesan has grown into numerous legends, and to this day it is not known whether her activities actually had a serious espionage background, or whether she was the victim of a show trial designed to stigmatize treason.
"Mata Hari" starring Greta Garbo is a film made in the convention of melodrama, in which the story of the unhappy love of a beautiful agent for a young Russian pilot takes center stage. The main character is tasked with intercepting a secret message brought to Paris by a Russian soldier, Alexis Rosanoff (played by Ramon Novarro). As usual, she uses her feminine charms and the fame of Europe's most alluring dancer for this purpose. So she seduces the young man and allows her co-workers to take over the report, but against common sense she falls in love with the soldier.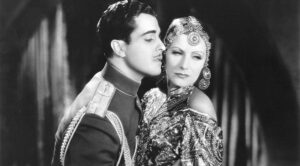 Meanwhile, the Russian general Shubin (Lionel Barrymore), jealous of Mata Hari, discovers his lover's affair and decides to denounce her, threatening to entangle Rosanoff in everything. Then the desperate woman shoots the man. She is arrested and tried, but before that she visits her beloved in the hospital, who lost his eyesight in a plane crash. The heroine is sentenced to death. Just before the sentence is to be carried out, Rosanoff shows up in her cell, convinced that this is the hospital room where Mata is awaiting a minor procedure. After a touching farewell kiss, the heroine, assisted by soldiers and nuns, marches in front of the firing squad.
Censorship in "Mata Hari"
"Mata Hari" even before its premiere caused interference from vigilant censors. Most controversial were the erotic scenes, although in this case it was not just about sex. Of course, as expected, shots taking place in Rosanoff's bedroom were cut out, such as those in which the outline of a nearly naked Garbo standing in the doorway can be seen (a similar thing happened with the shots of a naked Garbo finishing a stage performance in front of a statue of Siva). Even more emotional, however, was the scene just before the close-up of Mata Hari and the young Russian. This is because Rosanoff is forced by his lover to extinguish the lamp burning in front of the sacred icon of the Madonna given to him by his mother. This is to prove his love for the beautiful dancer and show that he places her higher than the Virgin Mary.
Garbo's heroine even appears here as a spoiled, perverse and unequivocally negative character. It is known, however, that Mata Hari is not at all driven by a desire for sacrilege, but by a purely pragmatic motivation. After all, total darkness is supposed to be a signal to her colleagues that they can take care of the lieutenant's secret report while he is busy in the bedroom. In the morning, the woman, leaving her lover a farewell letter, again lights a candle in front of the painting.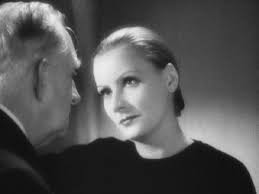 "Mata Hari" or irreplaceable Greta Garbo and her phenomenal creations
"Mata Hari" is not an outstanding film, but Greta Garbo's creation is. Regardless of the shortcomings of the script or overly melodramatic plot, the actress captivates on screen in almost every scene. This is a result of both Garbo's amazing, highly varied performance, as well as William Daniels' gorgeous expressionistic cinematography and Adrian's phenomenal costumes modeled after Mata Hara's authentic outfits. This is perhaps the actress' most exuding evil and cynicism, and she perfectly conveys on screen her character's ruthlessness and her subjective treatment of men. However, this countenance is softened by Mata Hari's loving transformation – when we see her caring and self-sacrificing to the point of an act of giving up her life.
Greta Garbo's costumes in Fitzmaurice's film are legendary. For example, the Adrian-designed gold backless llama gown, metallic leggings and long train will always be remembered by viewers. The costume was styled after Paul Poiret's costumes for the Russian ballet of the early 20th century. Interestingly, the closet was so heavy that the actress had to spend half an hour putting it on and another half an hour removing the tunic. In addition, a notable feature of the film's Mata Hari also turned out to be her highly original headgear. Already in the scene introducing the heroine, when we see her in an exotic dance in front of a pagan statue, Garbo is wearing a bizarre hat resembling a glowing Christmas tree on her head. She also appears in something resembling a helmet with hanging medallions, a jewel-embroidered toque, an ornate piuska, a hat modeled after a bishop's mitre and a black yarmulke.
In stark contrast to most of these exotic and flamboyant outfits is Garbo's final styling. In a prison cell, just before her death, we see her with her hair gathered smoothly back and a black coat. Her majestic posture and dignified stride as she is assisted by the firing squad make her a great heroine in the style of Joan of Arc. The execution scene was not shown before it was filmed, there were protests from the censors. Nevertheless, it was not necessary – Garbo's face walking to her death with her forehead raised and her eyes gazing into another reality says it all: the heroine redeems her guilt and wins the audience's eternal love.
Literature:
B. Paris, "Garbo: A Biography", 1995.
D. Bret, "Greta Garbo", 2012.