Romy Schneider – Austrian with a French Heart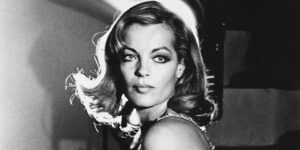 She belonged to the pantheon of European stars. Next to Marlene Dietrich, she is one of the most popular German actresses. Romy Schneider – unforgettable Sissi, great love of Alain Delon, who despite success and fame did not find happiness and died prematurely crushed by personal tragedy.
Romy Schneider in the care of her stepfather
Romy Schneider (Rosemarie Magdalena Albach-Retty) was born in 1938 in Vienna into a family with a long tradition of acting. Both of her parents were well-known actors: her mother, Magda Schneider, and her father, Wolf Albach-Retty. Her grandmother on her father's side also belonged to the stars of the German theater. The future artist spent her childhood in Upper Bavaria, as her parents not only did not cut themselves off from the cinema of the Third Reich, but were also among the most recognizable actors of that time. After the war Magda and Wolf divorced, and Romy moved in with her mother and younger brother. She was then sent to a convent boarding school. In 1953, when Magda Schneider remarried, she married Hans Herbert Blatzheim, a well-known German restaurateur, and Romy moved in with her family.
The stepfather had a decisive influence on the early youth of the Austrian actress. He certainly provided the family with a very high standard of living. Years later, however, the artist assessed his role negatively. Blatzheim was not a sensitive person, but had a head for business. When Romy began her acting career, he managed the young star's finances. But at the same time he used his stepdaughter's image to develop his own business and supported himself with her money. He was also not the best husband – he cheated on Magda and showed no respect to his wife.
Romy Schneider – rapid career of a young star
The acting career of Roma Schneider began when the girl was only fifteen years old. In 1953, the actress appeared alongside her mother in the film "When the White Lilacs Bloom Again". Her role was liked enough to almost immediately bring Romy more proposals. The rising star attracted the interest of Ernst Marischka, who engaged her for the film "The Story of Vickie" (1954), where she played the young English ruler Victoria. This was followed by the most emblematic roles in Romy Schneider's career, namely the wildly popular trilogy about the fate of Empress Elisabeth of Bavaria of Austria.
"Sissi", "Sissi – The Young Empress" (1956), "Sissi – Fateful Years of an Empress" (1957), made the actress the favorite star of Germans, and later spread Schneider's fame throughout Europe. Of course, the image of the beautiful, girlish and innocent queen clung to Roma for a very long time, in fact, it dragged on for her entire life. The actress herself said: "I felt pigeonholed. And nothing is more dangerous for an actress than to be assigned to one role. I had Sissi written on my forehead. Almost the entire later professional life of the artist was an attempt to break the image of the sweet little twerp, which Schneider was often held against, especially in Germany. The role of Sissi, however, undoubtedly gave Roma star status.
Romy Schneider – Alain Delon and France
The breakthrough in the personal life of the actress, and, as it later turned out, also in the professional sphere, was a role in the film "Christine" – an international production directed by Pierre Gaspardov-Huitov, based on Arthur Schitzler's play Pleasure. It is a story about a young girl who falls in love with a handsome lieutenant. When he dies in a duel with the husband of his former lover, Christine, distraught at discovering the true face of her beloved, takes her own life. Interestingly, Romy had to face in this film the legend of her mother, who before the war appeared in the very same role in the work of Max Ophulus.
Nevertheless, the importance of "Christine" in Romy Schneider's life did not lie in the qualities of the film itself (on the contrary, the actress once again played the role of an innocent girl), but in the transformations in her life that the film brought about. On the set of the film, the Austrian star met the love of her life, Alain Delon, for whom she soon left her family and country to live with him in France. Living on her own in Paris completely changed Romy. In France she was no longer a star, but an almost anonymous girl who, in addition, did not know the language. While Delon's career was gaining momentum, Romy's success was fading. Her subsequent films proved to be misfires, and "An Angel on Wheels" was even boycotted by the public. In a way, the actress had to start all over again.
Romy Schneider – Delon, Viconti and Coco Chanel
The chance came from the great Italian director Luchino Viconti, whom Romy met through Delon. Visconti, who fondly called Schneider "Romina," threw her a real challenge – he wanted her and Alain to perform a play about incestuous love, John Ford's "Tis Pity She's a Whore", at a Paris theater. Several months of murderous rehearsals and French accent training yielded wonderful results. Admittedly, the premiere was postponed due to Roma's appendicitis, but it finally took place on March 29, 1961, and the performance was a great success. Ingrid Bergman herself appeared in the dressing room of the leading lady to congratulate her on her success. Visconti also offered the German actress an important role for her career in "Boccaccio'70".
During the preparation for the Italian master's film, Schneider completely changed her external image under the influence of her meeting with Coco Chanel. The famous fashion designer turned a young girl with unruly hairstyle into a stylish lady wearing classic costumes. Romy's new hairstyle was created by Alexandre, the hair master of the time. Romy herself later recalled: "My life was decisively changed by three people: Alain, Viconti and Coco Chanel". The actress's creation in the Italian director's film aroused real recognition and opened the door to Hollywood for her.
Romy Schneider – a great disappointment and a big return to the screen
In 1962 Schneider got an offer from across the Ocean – the role in his film was offered to her by Orson Welles himself. Romy starred in "The Trial" and was awarded a Crystal Star by the French Film Academy for her performance. Then came her collaboration with Otto Preminger in "The Cardinal" (1963), for which Schneider received a Golden Globe nomination. When she left for America to shoot another film – "Good Neigbor Sam" by David Swift, Alain Delon, through a friend, gave her a letter with the decision to break the relationship. For the actress it was a huge blow, which she paid with depression and a suicide attempt.
Her career in Hollywood did not develop favorably. After appearing in "What's New Pussycat?" Schneider returned to Europe, where she was to appear in Henri Clouzot's film "Inferno". While opening one of her stepfather's restaurants in Berlin, Romy met actor and director Harry Meyen, whom she married in 1966 and soon gave birth to her beloved son David. Motherhood gave the actress much joy, although it took her away from her profession for a while. Romy suffered from a lack of interesting proposals, and directors stopped being interested in her. Unexpectedly, she received a proposal from … Alain Delon, to partner him in Jacques Deray's film, entitled "The Swimming Pool".
The role in the cult thriller became one of the most important in the career of Romy, but also Delon, and what is more, their on-screen relationship for the audience became a symbolic image of their real love. "The Swimming Pool" (1969) is the story of a love triangle in which two men compete for Marianne's charms, which eventually leads to murder. In Deray's film, Romy was phenomenal – both in terms of beauty and talent
Romy Schneider at the top
After "The Swimming Pool" came a great role as an actress in Claude Sautet's "The Things of Life" (1970), which gave her the status of a French film star. In "Paris Match" it was written: "cinema four decades after Greta and Marlene and fifteen years after Marilyn has rediscovered its star". In "The Assassination of Trotsky", Romy once again met on the set with Alain Delon. Her performances in Visconti's "Ludwig" (1972) and "Cesar & Rosalie" (1972) were significant. Schneider won her first Cesar, a French Oscar, for the role of Nadine in Andrzej Żuławski's "The Most Important Thing: Love" (1975).
She was also recognized in Germany for her film "Group Portrait with a Lady" by Aleksandar Petrovic. She was then awarded the Golden Tape. The film Such an "A Simple Story" (1979) by Claude Sautet brought Schneider her second César.
The greatest tragedy of Romy's life
Unfortunately, the success of Schneider's professional life did not translate into her private life. The actress got into an affair with her secretary, Daniel Biasini, for whom she divorced her husband and married him. In 1977, she gave birth to a daughter Sarah. Things were not going well in the marriage. However, the biggest blow fell on the actress in 1981, when her beloved son David suffered a fatal injury crossing a fence. The star completely broke down, and the press had no mercy for her at the time.
One newspaper even put a picture of the dead boy's face on its cover. Romy fell into addiction to drugs and alcohol, which had already given her moments of relaxation. The last film she worked on was "La Passante du Sans-Souci". On May 29, 1982, the star was found dead in a hotel room in Paris. She had most likely committed suicide. Romy's friend Jean-Claude Brialy said of her: "When she loved, she loved uncontrollably, madly. She gave up everything, her home, her money, everything. For the man she loved, she was ready to sacrifice her career. And yet she never stopped looking for love.
Literature:
G. Krenn, "Romy i Alain. Szalona miłość", przeł. Maria Skalska, Warszawa 2015.