"Wild Strawberries" – Bergman's Code of Values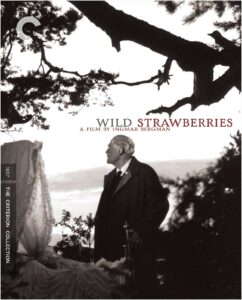 Title: "Wild Strawberries"
Release Date: 1957
Director: Ingmar Bergman
Cast: Bibi Andersson, Ingrid Thulin, Max von Sydow, Victor Sjöström
"Wild Strawberries" is one of Bergman's greatest films. The story of one day in the life of an old professor Borg turns into a universal parable about the meaning of human existence – love for another human being.
Bergman made "Wild Strawberries" in 1958. The film quickly gained critical acclaim and became one of the masterpieces of world cinema. It is a story of a retired professor, Isaac Borg, who travels from Stockholm to Lund to receive his doctoral degree at the local university. However, the night before the journey, the man has a mysterious dream about his own death. It disturbs him so much that during the car ride he decides to stop in his hometown, where he is haunted by memories of his youth. In his imagination Borg sees the house where he used to spend his vacations and his youthful love – Sara, with whom he used to pick strawberries.
The professor is also haunted by another dream – as an older man he is sitting for an exam and, in addition, does not know the answer to any of the questions. What is more, it turns out that he is guilty of the sin of indifference. The Borg also recalls his relationship with his late, unloved wife, who, because of his frigidity, began to cheat on him. He also visits his mother and remembers how little tenderness and interest he received from her. By revisiting the past, the professor begins to reflect on his life, which is inevitably coming to an end. The protagonist notices his own frigidity in contacts with his loved ones, even with his own son. Unexpectedly, the academic award that was supposed to be his crowning achievement loses its significance altogether. Existential issues come to the fore – loneliness, approaching death and the question about the meaning of life.
"Wild Strawberries" – masterful poetics
In "Wild Strawberries" Bergman presents himself as a film erudite. Among other things, the director draws on the tradition of silent cinema. There are elements of film expressionism in his work, especially in the dream visions, where we have to do with the deformation of space, symbolic props, such as a clock with stopped hands, or a coffin with a menacing double of the Borg himself. Other scenes, on the other hand, are realistic or sentimental. Nevertheless, Bergman's strongest reference is to the achievements of the Swedish film school and the poetics it created. It was in Scandinavian cinematography that metaphysical issues were first raised. The poetics of Swedish films is strongly rooted in the space of the harsh North, melancholic and inclining to contemplate the transience and sense of existence. The title strawberries are in Bergman's work an eloquent symbol of the beauty of life. The sensuality of the fruit – its unique taste and scent – refers back to the lost paradise of youth. The film therefore sparkles with various shades and moods that create a coherent and clear composition reflecting the protagonist's inner transformation.
"Wild Strawberries" – love above all
Professor Borg realizes that despite his dazzling professional career, he has not achieved personal happiness. An encounter with a young girl traveling with two boys further emphasizes the professor's lost chance for true love. Instead of his beloved Sara, years ago he chose a life closed in rigid conventions, emotionally empty. However Borg decides to use the remaining time. He tries to establish a personal relationship with his son, he treats his housekeeper with warmth, and as he goes to bed, he smiles and says goodbye to young Sara, who serenades him at the window.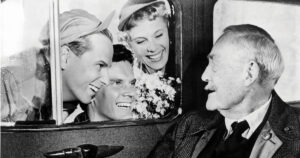 When the professor falls asleep after a day's journey, which is in fact a journey into his own soul, he dreams of his love from long ago. He is back in the clearing, picking wild strawberries together with Sara. For the only value that resists the inexorable laws of time is love. True happiness, then, does not lie in honours and money – Bergman's soul travels somewhere else – to wild strawberries.