Romy Schneider & Alain Delon – Forever Engaged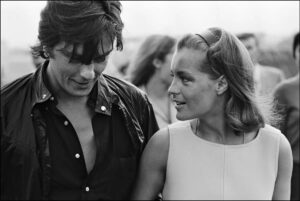 The relationship between Romy Schneider and Alain Delon, although it has not stood the test of time, has survived in the consciousness of film lovers as a symbol of crazy youthful love. A maiden from a good home with impeccable manners and a feisty, unkempt boyfriend created one of Europe's most beautiful couples.
The year is 2008. That evening, the hall of the Parisian Theatre du Chatelet was filled to capacity. Everyone watches the stage and waits in suspense. Alain Delon appears. With a leisurely stride, he walks across the stage and bows low before the audience. This is a special occasion. Everyone in the audience feels the peculiarity of this moment. Delon is receiving an honorary César for Romy Schneider, an actress who has been dead for nearly 27 years. A huge photo taken at a Paris airport in 1968 descends from the ceiling. On it are Romy and Alain – beautiful, young and laughing – this is their first meeting after several years of separation.
The actor takes the microphone in his hand and begins to speak: "I was asked to give her the honorary Caesar, I agreed. Why? Why? Because this year you would have been seventy years old and I miss you so terribly. Because we were engaged fifty years ago, because we swam together in the Pool forty years ago, because we loved each other, we were happy together – and unhappy when David left us. Because it was you, because it was me. Therefore. This evening I would like to ask you for a simple but symbolic thing: that you stand up and together with me celebrate with applause her seventieth anniversary… For you, my Puppele, for you, my love."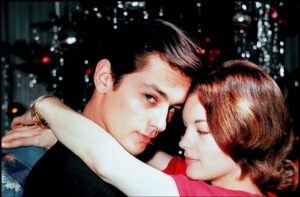 Romy Schneider & Alain Delon – like fire and water
Romy Schneider and Alain Delon met, as is usually the case with actors, during the making of a film. It was an international co-production – "Christine" – directed by Pierre Gaspard-Huit. The meeting of the actors playing the main roles was carefully arranged – the couple met at the airport on April 10, 1958. At the Paris airport, Delon, dressed in an elegant suit, was waiting for Romy with a bouquet of red roses. She was accompanied by her family, him, the film's director, producer and another actor playing a significant role in "Christine", Jean-Claude Brialy.
Interestingly, Romy and Alain did not like each other at all. He was said to have called the German actress an ill-dressed "blond goose," while she later said of Delon: "too handsome, too trusting, too young a boy, dressed like a gentleman, in a shirt and tie, and in too fashionable a suit […]. The whole thing was tasteless to me, and the boy was uninteresting." Certainly the mutual distrust was influenced by the unequal position of both of them in the film world. Romy Schneider was already a star on a European scale at the time. Her role in the trilogy about the Austrian Empress Sissi made her a national idol and a willingly engaged actress. Delon, on the other hand, was still little known, just beginning his career. In the film, he was to be the background for the famous German star. Moreover, Alain and Roma were completely different in social background and upbringing. She was a spinster from a good home, accustomed to wallowing in luxuries. He, on the other hand, was an unkempt young man with a very difficult childhood and an uneasy youth, which he spent as a soldier on the war front in Indochina.
However, the movie romance turned into reality and the youngsters soon established a common language. Admittedly, Romy did not know French, and Alain did not know German, so they communicated in English. The actress, due to her family's dislike of the unruly Frenchman, scrupulously concealed her feelings from those closest to her. Nevertheless, one day, while shooting in Vienna, Roma's mother arrived for an unannounced visit and found her daughter in a hotel room in Alain's embrace. The young actress's family hoped that the affair would end with the filming of "Christine". And everything seemed to indicate this – after the filming was completed, Delon flew back to Paris, and Schneider headed for a plane to Cologne. At the last minute, however, she changed her mind – she returned the ticket and changed the direction of the flight to Paris.
After landing in France, she happily called a surprised Alain from a phone booth, who immediately arrived and took his beloved to the apartment of a friend, Georges Beaume, at Malaquais 3. It was there, in a modest apartment, that they were to spend the next crazy time. Roma's family treated her behavior as an escape and tried at all costs to persuade her to return. However, nothing could separate the couple at the time – they were simply unearthly in love.
Romy Schneider & Alain Delon – "Love of 20-year-olds"
He was 23, she was 20 – the world was open to them, and the feeling connecting them seemed unusually strong. Years later, Alain recalled this period: "The love of 20-year-old children very beautiful and very pure. (…) Yes, she was my first true love, a youthful love. Something like that is not forgotten! I knew that after her nothing would be the same as before." Romy, on the other hand, spoke of her first months living in France with Alain as follows: "I was nineteen, it was the first time my foot stepped on Parisian cobblestones, and I wanted to experience great love for someone I adore. For me, Paris was first Alain Delon."
The French actor showed Romy a very different life from the one she had known until then. There was freedom in it from all, especially moral restrictions. The actress didn't care anything about the bourgeois morality in which she had been raised, and she swapped elegant society for Parisian bohemia. In France, however, the roles switched – here Romy was almost anonymous, without knowledge of the language she could not count on interesting proposals, and meanwhile Delon's career was gaining momentum.
Romy Schneider & Alain Delon – eternal brides
In 1959, Magda Schneider and her husband, Hans Blatzheim, purchased an exclusive estate in Switzerland, on Lake Lugano. Romy and Alain officially lived there, although in reality they were more "accommodating." At the Maro villa, the actress's stepfather arranged an engagement ball to quell the indiscriminate comments of the domestic press against his stepdaughter. The party took place in March 1959. The couple exchanged engagement rings of braided white, red and yellow gold in front of journalists. Another similar press photo shoot starring the couple in love was organized for Christmas. Nonetheles, the date of the wedding was not set, and was constantly changed in the following years. Romy and Alain were to remain eternal fiancées.
The following year brought Delon many interesting film offers, including a role in Luchino Visconti's "Rocco and His Brothers". On this occasion, the lovers moved to Italy – they stayed for a long time with the famous Italian director, who often hosted artists. Apparently, Alain and Romy displayed a truly Italian nature there – they took turns quarreling fiercely and then falling into each other's arms. They also rented a house in Rome, and Romy was offered by Visconti to appear with Delon in the French play Pity She's a Harlot, which proved to be an important highlight of her acting career and polished her French.
Romy Schneider and Alain Delon in a private palace
Delon's growing popularity and the continuing financial influence from Schneider's youthful successes allowed the couple to rent an exclusive apartment in a fashionable Parisian neighborhood, on avenue de Messine. The lovers eagerly invited journalists to their abode and held photo shoots. They also purchased a country estate near Paris, in Tancoru, where they enjoyed spending time with their dogs.
Paradoxically, the increase in the standard of living became the first reason for Roma and Alain's distancing from each other. Constantly involved in a variety of contracts, they lived in constant disarray. Moreover, Delon somewhat exaggeratedly began to create his public image, in which material things occupied a not insignificant position. He also invited suspicious company with ties to the gangster world to his mansion, which was linked to his distinctive film roles.
Romy Schneider and Alain Delon – the end of the film idyll
It must be said that Alain was not one of the faithful brides. On the contrary, he took almost every opportunity to engage in a fleeting romance. Romy experienced torments of jealousy, which led to eternal quarrels, but she constantly forgave her beloved. Over time, she began to crave stability – a family and children, for whom she was ready to sacrifice her career. In September 1963, before Schneider left for the US, where she was to shoot another film, the actress wrote eloquently to her friends, "I am going overseas now. […] I am thinking of you and will return, I hope, already as Madame Delon."
Alain, however, was going in a completely different direction and ultimately dealt Roma a huge blow. While his fiancée was in the US, through his friend Georges Beaume, he handed Romy a letter with his decision to leave. The actress experienced the news extremely hard. She fell into depression and even bargained for her life. Delon's decision was all the more hurtful because the actor soon married a model he met on the set of Samurai, Nathalie Canovas, with whom he had started an affair while still in a relationship with Romy.
Why did Alain leave Romy?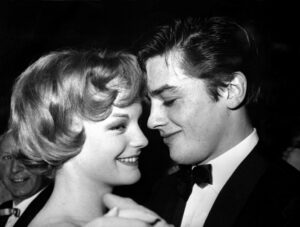 Romy Schneider and Alain Delon lived together for five years, during which the entire film world waited for their wedding. Nevertheless, the catastrophe of their great love, which ended very common, did not determine the subsequent relationship. Indeed, the two became true friends. Years later, they also analyzed the reasons for their breakup – Delon claimed that he never stopped loving the German star, but that their worlds simply drifted apart. In fact, from the beginning they belonged to two different backgrounds, although they hoped that love would overcome all barriers.
However, there is no denying that Delon – a perpetually restless spirit who despises all obligations and official etiquette – felt a constant irritation when confronted with Roma's kindness. He even wrote in his book, "She comes from the social stratum I hate most in the world. It's not her fault that, to her misfortune, she was shaped by this stratum. For five years I have not been able to eradicate what was instilled in her for twenty. Just as there are two, three, ba, even four Alain Delons in me, so there are two Romy Schneiders in her. She herself knows this. One Romy I loved more than anything in the world, the other I hated just as much."
Romy and Alain – eternal love of film lovers
The paths of the legendary couple diverged – he became entangled in successive relationships with women, she in two failed marriages. Delon, however, retained a great affection for his first love, and for the rest of Romy's life, until her tragic death, he showed her support. It was thanks to him that the almost forgotten star returned to the big screen in fine style. Indeed, Delon won for Schneider a role in the famous "The Swimming Pool" in 1969. It was on the set of this film that they met for the first time since their spectacular breakup. What's more, they played lovers (!), and the passion emanating from their relationship from frame to frame seems completely authentic.
Delon was also by Romy's side at the most tragic moment of her life – when her fourteen-year-old son David died in 1981. It was the French actor who organized the funeral and took care of his former fiancée's privacy. He tried very hard to get Schneider back to mental balance. Unfortunately, the latter task failed – Romy most likely committed suicide in a Paris hotel on May 29, 1982. Alain was one of the first to arrive on the scene and locked himself with her body in solitude to mourn his beloved. He took care of the funeral formalities, although he did not attend the ceremony himself – he said he was overwhelmed by it. There is also a rumor that the actress is not lying in an official burial place, but that Delon buried Romy at his estate.
Over the following years, Alain often recalled his former great love. He was the one who received the honorary César posthumously awarded to her in 2008. Asked if he regretted not marrying the German actress years ago, he replied in the affirmative. Had Romy and Alain stayed married would the story have turned out differently? Perhaps… Delon on the day of his beloved's death said frankly: "I will never forget her smile. It flowed straight from the soul."
Literature:
G. Krenn, "Romy i Alain. Szalona miłość", przeł. M. Skalska, Warszawa 2015.